Final Cut Pro X Updated With Support for Third-Party Workflow Extensions
Apple today announced a new update for Final Cut Pro X, which introduces support for workflow extensions that will allow professional video editors to use third-party apps and services directly within the Final Cut Pro app.
Workflow extensions have been designed to match the look of Final Cut Pro, offering tight integration with the app. Media can be dragged into Final Cut Pro libraries, playback can be synced between extensions and the timeline, and more.
Extensions include
Frame.io
, which enhances post-production,
Shutterstock
, which allows for browsing and purchasing stock footage, and
CatDV
for media asset management.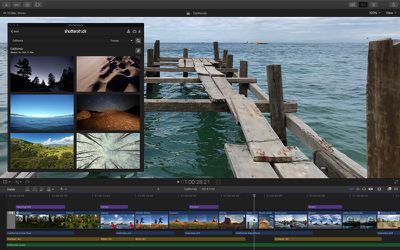 Workflow extensions for Final Cut Pro can be downloaded from the Mac App Store starting today, with Apple planning to add additional third-party FCP extensions on an ongoing basis.
Along with extensions, the new version of Final Cut Pro introduces batch sharing for exporting multiple clips or projects in one step, a new Comparison Viewer window is available for letting editors view reference images while working on color grading, and marquee selection has been improved to make it easier to select individual clips.


Apple has added a new floating timecode window to make it easier for video editors to follow along with color-coded clip names, roles, project timecode, and source timecode, all presented in a customizable display.


New noise reduction tools are designed to minimize artifacts in low light footage, and editors can create closed captions in an SRT format or burn them into a video for wider compatibility with various websites.
Motion, the motion graphics companion app for Final Cut Pro, is also being updated today. It gains a comprehensive set of color grading tools that match the color correction features available in Final Cut Pro along with new filters for comic and tiny planet effects.
Compressor, another FCP companion app, now uses a 64-bit engine that better takes advantage of all of the memory in a user's Mac and it supports SRT closed captions.
Final Cut Pro can be downloaded from the Mac App Store for $299.99. [Direct Link]
Motion can be downloaded from the Mac App Store for $49.99. [Direct Link]
Compressor can be downloaded from the Mac App Store for $49.99. [Direct Link]