Hands-On With Apple's New 2018 Mac Mini
Apple in late October unveiled a refreshed version of the Mac mini, marking the first update to the company's smallest desktop machine in four years.
We managed to get our hands on one of the new Mac mini models, and in our latest video, we unbox it and share our first impressions on the revamped machine.
The Mac mini's design hasn't changed, and it's still a 7.7-inch square box that's 1.4 inches thick, but it is available in a new Space Gray color rather than the traditional silver.
It's otherwise the same, but with the exception of a new selection of ports. The Mac mini is outfitted with four Thunderbolt 3/USB-C ports, two USB-A ports, an HDMI 2.0 port, an Ethernet port, and a 3.5mm headphone jack.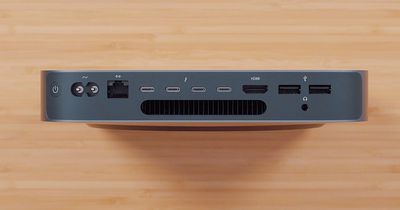 While the design is largely the same, the internals of the Mac mini have been entirely overhauled. There are new, more powerful components, which necessitated a bigger internal fan with twice as much airflow, expanded vents, and a revamped power supply that offers 70 percent more maximum sustained power.
The base Mac mini ships with a 3.6GHz quad-core 8th-generation Intel Core i3 processor, and this is actually the first time that all Mac minis have had at least quad-core processors. A higher-end 3.2GHz 6-core Core i7 processor is also available as an upgrade option.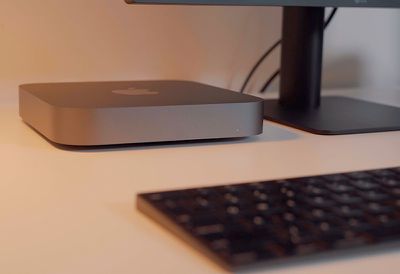 In our testing of the entry-level Mac mini, it earned a single-core score of 4452 and a multi-core score of 12391. That puts the base model on par with lower-end 13 and 15-inch MacBook Pro models from 2017 and 2018.
All 2018 Mac mini models ship with an included T2 chip, which makes sure all of the data on the SSD is encrypted using dedicated AES hardware, and offers a secure boot to ensure your software isn't tampered with and only OS software trusted by Apple loads at startup.
The Mac mini uses Intel integrated UHD Graphics 630, but with the Thunderbolt 3 ports, it's able to connect to an eGPU for workflows that require more graphics power. Thunderbolt 3 also lets the Mac mini connect to two 4K displays at 60Hz or one 5K display at 60Hz.


8GB of RAM comes standard in the Mac mini, but it can handle up to 64GB, with Apple offering an option to customize the machine with additional RAM when placing an order.
Likewise, the base machine also ships with a 128GB SSD, but it can be upgraded to 2TB of storage in total.
None of these new features in the Mac mini come cheap, and the base level model now starts at $799, up from the $499 starting price of the 2014 model.
Apple sells the Mac mini in two configurations: $799 for 3.6GHz quad-core 8th-generation Intel Core i3 chip, 8GB RAM, Intel UHD Graphics 630, and a 128GB SSD, and $1,099 for a 3.0GHz 6-core 8th-generation Intel core i5 chip, 8GB RAM, Intel UHD Graphics 630, and a 256GB SSD.


Unfortunately, as with many Apple products, the Mac mini is not really user upgradeable. You can upgrade the RAM, but you need to take the entire machine apart, which is tricky. The CPU and SSD, meanwhile, are soldered in place and can't be upgraded after purchase.
What do you think of Apple's new 2018 Mac mini? Was it worth the four-year wait? Let us know in the comments.