Apple Now Selling Refurbished HomePod for $299
Apple today added the HomePod to its online store for refurbished products in the United States, offering the smart speaker at a discount for the first time.
The HomePod, normally priced at $349, is available in both white and space gray for $299, a $50 discount off of the regular price.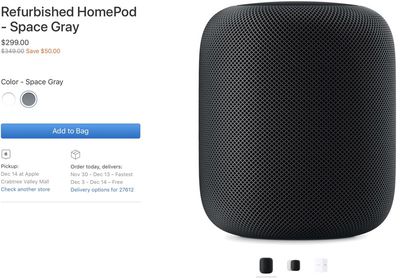 There is no HomePod listing on the main Apple refurbished site as of yet, but it should be added in the near future. For now, the HomePod can be purchased from the individual HomePod refurbished listing. Apple is still rolling out refurbished models, so the page doesn't work on occasion, but will show up with refreshing.
A refurbished HomePod bought today will be delivered between November 30 and December 14, depending on shipping method selected at the time of purchase.
Introduced in February, the HomePod is Apple's Siri-enabled smart speaker that pairs well with Apple Music. It serves as a Home hub, features AirPlay 2 support, can make phone calls, and offers up most of the capabilities of Siri on an iPhone.
Apple's refurbished stock is often limited in quantity and can sell out, which is something to be aware of. Checking the refurbished site often or using a tracking site is the best way to figure out when a particular item that you might want is in stock.
Purchasing a refurbished HomePod from Apple is a good way to get a like-new device at a lower price point. All of Apple's refurbished products are tested, certified, cleaned, and guaranteed with a one-year warranty that can be extended with AppleCare+.