Parallels Toolbox for Mac has been updated with a handful of macOS Mojave features, including Dark Mode support and the ability to annotate screenshots with the new and improved systemwide Take Screenshot tool.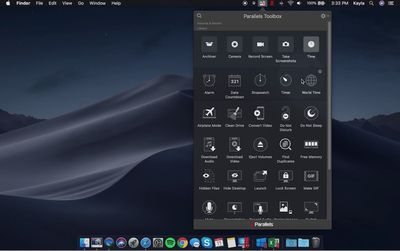 Parallels Toolbox 3, a free update for existing users, features three new tools for quickly uninstalling apps, viewing local times in various locations around the world, and revealing files and folders that are normally hidden in macOS.
The complete list of new and enhanced features added in Toolbox 3, as outlined in Parallels' press release:
Uninstall Apps: Easily remove applications and their files with a single click for faster removals.

World Time: See local times in various locations around the world to save time when working with colleagues globally.

Hidden Files: Reveals and conceals files normally hidden in MacOS to reduce desktop clutter and increase productivity.

Annotate Screenshots: Available only for macOS Mojave users, they can now use the Take Screenshot tool to add helpful markups including text, arrows, circles and more for quicker use in emails or presentations

Support for playlist download from video hosting websites: Quickly download playlists from Facebook, YouTube, Vimeo, and many more

Safari Extension for Download Video: Users can now enjoy a download video extension on their Safari browsers for quicker access downloading online videos to their desktops (compatible with macOS Mojave and Safari 12)

Dark Mode: Support for the setting in macOS Mojave

Customizable "Save As": Each individual tool now allows new files to be saved in customizable locations, rather than the same default destination, for streamlined efficiency

Resize Image: HEIF now joins JPEG, TIFF, and PNG as supported formats

Record Audio: Users can now save audio recordings in a MP3 file format, with the built-in microphone in a single click. You can also record from an external microphone or the computer if it's selected as the input source in System Preferences › Sound
Demo videos:
Parallels Toolbox adds a dropdown menu to the macOS menu bar with a collection of tools and shortcuts that simplify common tasks to just a click or two, such as taking screenshots, resizing images, hiding the desktop, recording audio, switching resolutions, creating password-protected archives of files, and more.
Parallels Toolbox 3 is available today for $19.99 per year for new users. The annual subscription includes free updates with new and enhanced tools as they become available "several times a year." Lower-priced Toolbox Packs with specific collections of tools are also available from $9.99 per year.
Note that while Parallels is best known for its virtualization software that allows for Windows and Linux to be run within macOS, its Toolbox software can be used natively on any compatible Mac or Windows PC.