Apple Now Selling Refurbished iPhone 8 and iPhone 8 Plus Models
Apple today added the 2017 iPhone 8 and iPhone 8 Plus to its online store for refurbished products in the United States, offering the smartphone at a discount for the first time.
The refurbished store has a selection of 64GB iPhone 8 and iPhone 8 Plus models in Silver, Gold, and Space Gray for sale, all of which are discounted by 14 to 16 percent.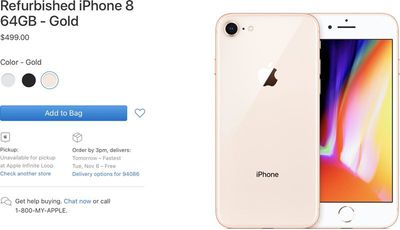 The 64GB iPhone 8 models are priced at $499, a discount of $100 off of the regular price of $599, while the 64GB iPhone 8 Plus models in the refurbished store are available for $599, also a $100 discount off of the regular $699 price.
Apple sells the iPhone 8 and iPhone 8 Plus as lower-cost alternatives to the flagship iPhone XS, XS Max, and XR. The devices feature a fast A11 Bionic chip, a Touch ID Home button, and a glass body for wireless charging.
There are no iPhone 8 or 8 Plus models with higher storage capacities available from the refurbished store at this time, but refurbished stock fluctuates frequently based on the available devices that Apple has on hand.
Refurbished stock is also limited in quantity and can sell out. Checking the refurbished site often or using a tracking site is the best way to figure out when a particular model that you might want is in stock.
Apple has been offering iPhones in its online refurbished store since 2016, but it often takes some time for new models to show up there. The iPhone 8 and 8 Plus, for example, were released in September 2017 but have just shown up on the refurbished site.
Purchasing a refurbished iPhone from Apple is a good way to get a like-new device at a lower price point. All of Apple's refurbished products are tested, certified, cleaned, and guaranteed with a one-year warranty that can be extended with AppleCare+.
For refurbished iPhone models, Apple provides a fresh battery and a new outer shell, ensuring peak performance and no scratches or other cosmetic damage on the device that you receive.