Apple Announces New MacBook Air With 13-Inch Retina Display and Touch ID
Apple in New York today announced a new Retina Display-equipped MacBook Air, the first major update to the model in several years. The display is the centerpiece of the update, but it also gains a pair of Thunderbolt 3 ports and retains its headphone jack, mirroring other 13-inch notebooks in Apple's lineup. It's available in gold, silver, and space gray.
Pricing starts at $1,199, with preorders beginning today and first deliveries on November 7.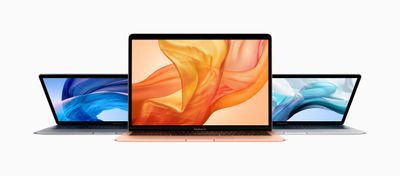 The new Air features 50 percent smaller bezels, allowing for a reduced footprint while retaining the same screen size. The 13.3-inch display has four times the resolution of the previous model at 2560x1600. The screen supports 48 percent more color than before, and the FaceTime HD camera remains tucked away at the top.
It has an 8th-gen Intel Core i5, with Intel UHD Graphics and 2133 MHz system memory up to 16GB (8GB standard), with faster SSDs up to 1.5TB in capacity.
There's a new Touch ID fingerprint sensor at the top right of the keyboard, alongside the physical function keys. Apple's T2 Security Chip is included, brought over from the MacBook Pro and iMac Pro — it protects Touch ID data, while also ensuring that the boot process has not been tampered with. There's an onboard SSD controller with on-the-fly data encryption for the Air's flash storage. It also enables "Hey Siri" support.


It uses the same third-generation keyboard as Apple's recent MacBook Pro models, and the Force Touch trackpad is here as well. Better, louder speakers are here, with 25 percent more volume and twice the bass.
It takes up 17 percent less volume, and is ten percent thinner than before, just 0.61-inches at its thickest point (by the hinge). It weighs 2.75 pounds, a quarter pound lighter than before.
Finally, Apple made much of the environmental impact of both the MacBook Air and the new Mac Mini, with both machines made from a new, custom-designed aluminum alloy that uses 100 percent recycled aluminum. Apple says this alloy helps reduce the Air's carbon footprint by 50 percent, "making it the greenest Mac ever."
In addition to the new $1,199 MacBook Air, the old version sticks around, beginning at $999.