With the Mac mini getting a long-awaited update today, Apple took the opportunity to highlight the use of the tiny computer in a number of unique areas where full-size machines might not quite fit — literally.
In The Secret World of Mac mini, Apple takes a look at country star Dierks Bentley's live show, the touring production of the Finding Neverland musical, and the Mac mini-focused datacenter provider MacStadium.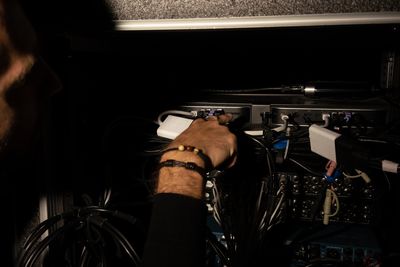 When Dierks Bentley performs live, Mac minis travel with the show to monitor the band's 18 wireless guitar rigs. According to the piece, Dierks' sound engineer uses a Mac mini to power his equipment — well, actually it appears to be a Mac Pro in the picture, weirdly. Not sure what's going on there, but there is a Mac mini with a banana sticker on it:

"If Dierks is out in the crowd and this setup alerts me that his guitar's wireless strength is going down, I can adjust it and avoid an issue," says Gutierrez. "And I've always run this setup on Mac mini — I've been using the same Mac mini for five years, and I've never had a problem."
The Finding Neverland performance uses a Mac mini running software to produce sound that can't be sung or played live, including electronic music and sound effects.

Finding Neverland is the true story of how author J.M. Barrie conceived the fantastic world of Peter Pan. The production takes the audience on a journey that floats between the author's real life and the make-believe world of his imagination. And bringing that imagination to life requires a lot of sound effects — from ticking clocks and thunder claps, to cannon booms and the sound of Tinkerbell's…well, Tinkerbelling. All those effects are possible because of Mac mini, triggered throughout the show by the conductor.


Finally there's the Mac-only datacenter MacStadium, which manages thousands of Mac minis across several data centers for its clients. The firm manages almost 8,000 minis, for a wide range of developers who want Macs for development work and more.

"Candy Crush, Shopify, Day One — so many of your favorite apps and games run on Mac mini. It's truly the Swiss Army knife of computers," says Brian Stucki of MacStadium.
The new Mac mini is available for preorder today, shipping on November 7. It starts at $799, but fully loaded, it prices out to a decidedly not-mini $4,199.