2018 MacBook Air and Mac mini Hands-On: Long-Awaited Updates Don't Disappoint
Apple today announced two new Mac-related device updates, including a new MacBook Air and Mac mini. The refreshed MacBook Air includes an updated keyboard, larger Force Touch trackpad, slimmer display bezels, two Thunderbolt 3/USB-C ports, Retina Display, reduced footprint, Touch ID, and Apple's T2 security chip. The Mac mini comes in Space Gray with 8th-generation Intel Core processors, flash storage up to 2 TB, Apple's T2 security chip, and more.
According to The Verge, the new MacBook Air looks a lot like a MacBook Pro, but the tapered design gives away the computer as a MacBook Air device. The site called the MacBook Air's Retina Display great and essentially on par with the screens on MacBook Pro models.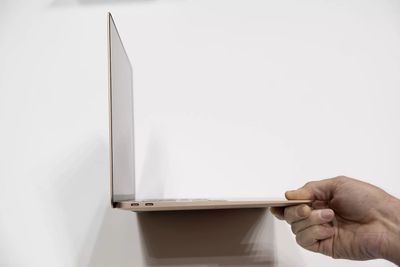 Image via The Verge
The Verge
acknowledged that Apple's third generation keyboards are still polarizing, with super minimal key travel, but the site didn't think this is enough of a reason not to upgrade. Ultimately,
The Verge
enjoyed its first hands-on time with the MacBook Air and said that this is the MacBook most people should get, but wondered if the $1,199 entry price is still too high:
We'll do a fuller price breakdown and comparison to other laptops soon, but my initial impression is that while I think this machine is worth $1,199, I still wonder if that's too high of an entry price. But the only real way to know the answer to that question is to wait to see how it sells.
TechCrunch also pointed out that the new MacBook Air looks largely similar to the MacBook Pro, comparing the two in an image (seen below). The site said that the update to the MacBook Air was solid, and they commended Apple for keeping the MacBook Air around and not discontinuing it in favor of the low-cost MacBook.

MacBook Air on top of MacBook Pro, via TechCrunch
Touch ID is now present up top — a great addition — though Apple opted not to include the Touch Bar. That could be for any number of reasons. There's some speculation that the company will ultimately move away from the feature, but more likely, it was simply a cost cutting measure.

All in all, a solid and long awaited update to Apple's best loved laptop. It's nice to see the company keeping the model around, rather than simply doing away with it in favor of the low end MacBook.
Switching over to the Mac mini, numerous sites praised the long-awaited update to Apple's miniature desktop device, which last saw a refresh in October 2014. The Space Gray Mac mini comes with quad- and 6-core 8th-generation Intel Core processors with Turbo Boost Speeds up to 4.6GHz, making it 5 times faster than the previous generation, and up to 64GB of 2,666MHz RAM.
SlashGear liked Apple's boosted internal specs for the Mac mini, and noted the numerous ports on the back of the device, including four Thunderbolt 3/USB-C ports, two USB-A ports, HDMI 2.0, 3.5mm headphone jack, and an ethernet port. The site argued that there is enough inside of the updated Mac mini to potentially convince iMac owners to switch over to a Mac mini and display setup:

Image via SlashGear
For a compact desktop, the Mac mini always punched above its weight for user upgrades. No, you can't change the processor – in this case a choice of 4-core or 6-core Intel Core i3, Core i5, or Core i7 chips – but Apple has stuck with SO-DIMM memory. If you don't want to pay Apple for an upgrade to up to 64 GB of RAM from the standard 8 GB, you should be able to do it yourself later on.

It's little things like that which give the new Mac mini its charm. The $799 starting price, too, is aggressive – especially with the new MacBook Air Retina nudging up to $1,200. If you can do without Apple's Retina display and provide your own, this first rung on the macOS ladder no longer feels like such a compromise. In fact, there's plenty here that could sway iMac buyers back to a familiar old form-factor.
More news from Apple's New York event will be coming out as the day progresses, so be sure to keep an eye on our front page and on our Twitter feed for the latest coverage.