Microsoft Co-Founder Paul Allen Passes Away at 65 Following Battle With Cancer
Microsoft co-founder Paul Allen passed away today at age 65 following complications from non-Hodgkin's lymphoma. Allen earlier this month announced that he was again undergoing treatment for the cancer, which he was first treated for in 2009.
A childhood friend of Bill Gates, Allen co-founded Microsoft with Gates in 1975. He worked at Microsoft until 1983 when he faced his first fight with cancer after being diagnosed with Hodgkin's lymphoma.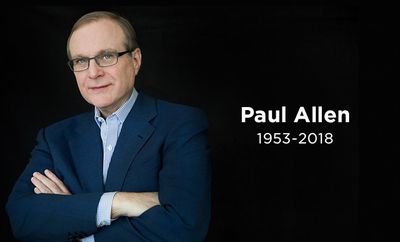 After his time at Microsoft, Allen used his wealth to invest in real estate, aerospace, sports teams, and filmmaking. Allen was the owner of the Portland Trailblazers and the Seattle Seahawks, as well as part owner of the Seattle Sounders FC. He operated Vulcan Real Estate, funded multiple sports venues, and owned Vulcan Productions, a television and film production company.
Following his death, Microsoft CEO Satya Nadella said that Allen's contributions to Microsoft and the tech industry were "indispensable."
Paul Allen's contributions to our company, our industry, and to our community are indispensable. As co-founder of Microsoft, in his own quiet and persistent way, he created magical products, experiences and institutions, and in doing so, he changed the world. I have learned so much from him - his inquisitiveness, curiosity and push for high standards is something that will continue to inspire me and all of us at Microsoft. Our hearts are with Paul's family and loved ones. Rest in peace.
Bill Gates said that Allen wasn't content with starting one company, and instead channeled his intellect and compassion "into a second act."
"I am heartbroken by the passing of one of my oldest and dearest friends, Paul Allen. From our early days together at Lakeside School, through our partnership in the creation of Microsoft, to some of our joint philanthropic projects over the years, Paul was a true partner and dear friend. Personal computing would not have existed without him.

But Paul wasn't content with starting one company. He channeled his intellect and compassion into a second act focused on improving people's lives and strengthening communities in Seattle and around the world. He was fond of saying, "If it has the potential to do good, then we should do it." That's the kind of person he was.

Paul loved life and those around him, and we all cherished him in return. He deserved much more time, but his contributions to the world of technology and philanthropy will live on for generations to come. I will miss him tremendously."
Apple CEO Tim Cook, Google CEO Sundar Pichai, Amazon CEO Jeff Bezos, and others also shared memories and kind words for Allen.
On behalf of Allen's family, his sister Jody Allen also shared a statement:
"My brother was a remarkable individual on every level. While most knew Paul Allen as a technologist and philanthropist, for us he was a much loved brother and uncle, and an exceptional friend.

Paul's family and friends were blessed to experience his wit, warmth, his generosity and deep concern. For all the demands on his schedule, there was always time for family and friends. At this time of loss and grief for us - and so many others - we are profoundly grateful for the care and concern he demonstrated every day."
Over his lifetime, Paul Allen gave away more than $2 billion through the Paul G. Allen Family Foundation and other charitable efforts, funding scientific research focused on the brain, multiple wildlife conservation projects, ebola research, the arts, and education.