Apple Teams Up With Zimmer Biomet for Clinical Study on Joint Replacement
Zimmer Biomet, a company that develops joint replacement products, today announced that it is working with Apple to improve patient experience with Apple Watch and iPhone following knee and hip replacements.
A new Zimmer Biomet mymobility app uses the Apple Watch to "facilitate a new level of connection" between patients and their doctors as they recover from major joint replacement surgery. Through the app, patients will be provided with "support and guidance" while preparing for and recovering from surgery, with surgeons able to use the data to "optimize care."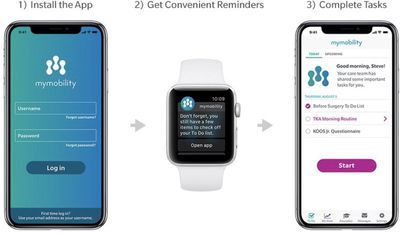 In addition to collecting activity data and allowing surgeons to see recovery progress, the app can be used to send education and therapy reminders directly to patients.
Zimmer Biomet is launching a clinical study to determine the Apple Watch app's impact on patient outcomes and overall costs for joint replacement patients. Knee and hip replacements are common surgeries with more than a million occurring each year in the United States.
As part of the study, which will enroll up to 10,000 people, Zimmer Biomet says that patients will use the mymobility app on the Apple Watch as they progress through the hip or knee replacement journey. Patient reported feedback will be combined with health and activity data from the Apple Watch to see how the mymobility app impacts care.
Apple's chief operating officer Jeff Williams said that with the Apple Watch and Zimmer's app, patients will be able to participate in their own care in ways not previously possible.
"We believe one of the best ways to empower consumers is by giving them the ability to use their health and activity information to improve their own care," said Jeff Williams, Chief Operating Officer, Apple. "We are proud to enable knee and hip replacement patients to use their own data and share it with their doctors seamlessly, so that they can participate in their care and recovery in a way not previously possible through traditional in-person visits. This solution will connect consumers with their doctors continuously, before and after surgery."
Several facilities are participating in the new mymobility Apple Watch clinical study including academic centers, hospitals, and ambulatory surgery centers.