iPhone XS Proves Faster Than iPhone X but Slower than Galaxy Note 9 in LTE Speed Test
The Intel XMM 7560 LTE modem in the iPhone XS and XS Max beats the Intel/Qualcomm modems in the iPhone X, but it isn't quite as fast as the X20 modem used in the Samsung Galaxy Note 9, according to data sourced from Cellular Insights and Ookla and shared by PCMag.
Cellular Insights compared Apple's iPhone XS Max with the iPhone X equipped with an earlier Intel modem, the Samsung Galaxy Note 9, and the Google Pixel 2 using the 20MHz channel of Band 4, used by Verizon, AT&T, T-Mobile, and several major Canadian carriers. Download speeds were tested at full strength and at a lower signal to determine overall comparative performance.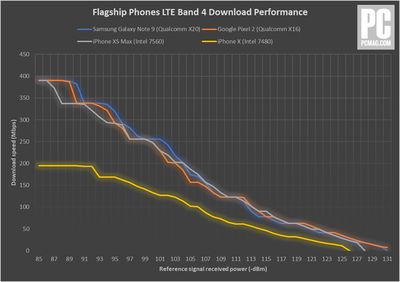 According to the data, in situations where there is strong signal, the 4x4 MIMO antennas in the iPhone XS and XS Max offer double the speeds compared to the iPhone X, and also help improve speeds in weak signal conditions. Compared to the Note 9 and the Pixel 2, the iPhone XS Max is a bit slower, but the difference is slimmer as signal gets weaker.
At signal levels below -120dBm (around zero and one bar of reception), the iPhone XS Max becomes more competitive with the Android phones using the Qualcomm X20 modem, but at the lowest signal, the Qualcomm X20 modem outperforms the Intel modem in the new iPhones.


Real world testing pulled from Ookla speed test results also suggest the iPhone XS is a good deal faster than the iPhone X. On average, the iPhone XS offers 6.6Mb/s faster download speeds on all U.S. carriers, and even better performance on Canadian carriers with a 20.2Mb/s speed boost.


AT&T is the carrier in the United States that appears to be seeing the biggest speed boost, while the difference is smaller on Verizon and Sprint. AT&T and T-Mobile iPhone X models used Intel modems and Verizon and Sprint used Qualcomm modems, which could account for the difference.
Samsung's Galaxy Note 9 with Qualcomm X20 modem outperformed the iPhone XS in both the United States and Canada, with the Galaxy Note 9 offering mean download speeds of 43.2Mb/s and the iPhone XS offering mean download speeds of 38.9Mb/s. Data for Ookla's speed comparison was collected during the week of September 24.


Despite the favorable results on these performance tests, many new iPhone XS and XS Max users have complained of LTE connectivity issues on the new devices. PCMag speculates that this is due to problems with the first versions of the iPhone XS firmware, which could be causing trouble with signal reception.
During testing, PCMag was unable to find "any issues in the hardware" that would explain negative experiences, suggesting problems people are experiencing can perhaps be fixed through a future software update.