Get Cash for Your Old iPhone, iPad, or Apple Watch Through MacRumors and MyPhones Unlimited
With new iPhone and Apple Watch models now on the shelves, you may be thinking of paving the way for an upgrade by selling your current device. We've partnered with MyPhones Unlimited, an Arkansas-based company that buys used iPhones, iPads, Apple Watches, and much more at competitive prices, to offer our readers a way to get cash in hand to make an upgrade happen.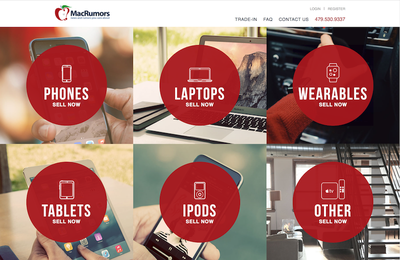 Entering the details for my iPhone to get a quote, MyPhones Unlimited is offering $490 at the time of writing this post (as with all buyback programs, a device's age and condition have a large impact on how much you can get for it) for my unlocked 256GB iPhone X. It's fully functional with no screen damage (thank you, screen protector and Apple leather case).
If you like the quote you get, the process to get paid is simple. You provide your contact and address information and MyPhones Unlimited will send you a box with a pre-paid shipping label so you can send your device to them. You'll receive a check in return within 10 business days of mailing your device. MyPhones Unlimited then refurbishes your device, if needed, and resells it. If it's unfit for reselling, it gets recycled. You can find more information in this FAQ.
With Apple's new GiveBack program, I get a quote of $525 for my iPhone X. Apple offers this in the form of an Apple Gift Card or a refund on a purchase, which is great if you plan to buy your next device from Apple. But if you plan to purchase it from your cellular service provider or another retailer, you'll have to find a way to convert that Apple gift card into cash so you can use it. MyPhones Unlimited offers an advantage here since you'll get a check you can cash and use however you wish.
Note that you could probably get more for your device through a private sale through Craigslist or even eBay. Right now, the going rate on Craigslist for an unlocked 256GB iPhone X is around $800 in the Boston area where I live. While you can get more cash this way, you have to post the ad, respond to potential buyers, and meet them. This can be inconvenient depending on your schedule or location and your own safety can be at risk (please follow Craigslist's own Personal Safety guidelines, at the very least). Selling your device to MyPhones Unlimited eliminates the hassle from this process.
MacRumors gets a portion of each transaction made through our buyback page. MyPhones Unlimited offers full support by phone and email if you have any questions not answered in the FAQ or need help with your transaction.