Alongside the release of iOS 12, the newest update to the iOS operating system, Apple has also released new version 12 software that's designed for the HomePod.
The new HomePod software will be installed automatically on the HomePod after you update to iOS 11.4, but you can also manually update and check your software version by following the instructions in our HomePod software how to.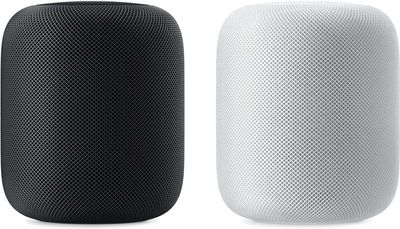 As Apple CEO Tim Cook said during the company's "Gather Round" event last Wednesday, the software update introduces several new features that HomePod users have been hoping for since the speaker was first released back in February.
The update lets you use Siri to search for your favorite songs using song lyrics, and it lets you create multiple timers. It also allows you to make and receive phone calls right from the HomePod.
The HomePod could previously be used as a speakerphone, but after the update, it will be able to be used to place and answer phone calls without the need to transfer a call from the iPhone.
HomePod will be able to ping your iPhone or any of your other Apple devices so you can find them in your Home, and it works with Siri Shortcuts, a new feature introduced in iOS 12. Apple's full release notes for the HomePod software update are below:
iOS 12 includes support for multiple timers, music search by lyrics, telephony and Find My iPhone.
- Conveniently search for a song using the lyrics if you can't remember the title (English only)
- Create multiple named timers
- Make and receive phone calls directly on HomePod, or simply ask Siri who is calling
- Similar to Apple Watch, Find My iPhone on HomePod allows you to quickly locate any of your iOS or macOS devices with an audible ping
- Calendar support to include all languages
- View the network name in Settings
For more on the HomePod, make sure to check out our HomePod roundup.