Apple Shares 'Shot on iPhone XS' Video Demoing Slo-mo, 4K, and Time-Lapse Modes
Apple has shared a video on its YouTube channel showcasing the video recording capabilities of the new flagship iPhone XS, which debuted on Wednesday at Apple's Gather Round event held at Apple Park.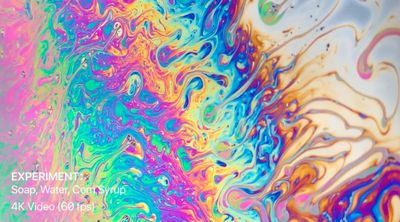 The content provides a "first-look" at video shot on the new device, which Apple claims has the "highest quality video shot on any smartphone", and looks at how water, metals, and other substances were used to create the impressive clips.
Over 1 minute and 44 seconds, viewers get a sample of what the smartphone's 4K, Slo-mo, and Time-lapse modes can capture in close-quarters, interspersed with short clips of how the experimental conditions were set up.
For example, one low-light experiment in 4K (at 60fps) mixes ink and clay over several glass panes to create a stunning interstellar-like scene complete with planets, their satellites, and nebulae looming in the background.
Apple says the XS family features larger pixels and a faster sensor than previous iPhones, enabling improved low-light performance and video stabilization, while four built-in mics allow video to be recorded with stereo sound.
The iPhone XS and iPhone XS Max come in 64GB, 256GB, and 512GB storage capacities, and in Space Gray, Silver, and Gold. The iPhone XS starts at $999 in 64GB, while the iPhone XS Max starts at $1,099 in 64GB.
Pre-orders for the smartphones begin on Friday, September 14, ahead of launch on Friday, September 21 in more than 30 countries and territories.