One of the new features included in Apple's high-end OLED iPhone XS and iPhone XS Max is improved water and dust resistance, with the two devices now offering an IP68 rating, equivalent to Samsung's Galaxy S9 smartphones.
The IP68 rating means the iPhone XS and XS Max can withstand water up to two meters (6.6 feet) deep for approximately 30 minutes. In this number, the IP6x rating refers to dust resistance while the 8 represents water resistance.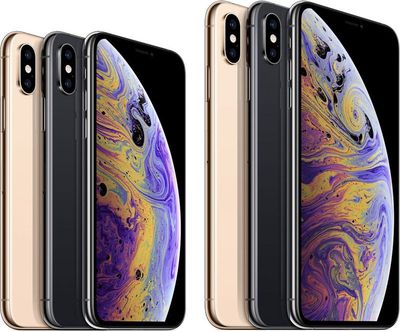 IP6x is the highest dust resistance rating, so the iPhone XS and iPhone XS Max are fully protected from dust and dirt. The new IP68 rating is up from the IP67 rating of previous iPhones.
Apple's iPhone XR is also water and dust resistant, but it is IP67 rated rather than IP68 rated, like the iPhone X. IP67 means that the iPhone XR can withstand immersion in water up to one meter (3.3 feet) for 30 minutes.
Apple does not cover any kind of water damage to its iOS devices, so it's always best to use caution when exposing a water resistant iPhone to liquids.
Apple also warns that seals against water resistance can weaken over time, which is another reason why it's best not to deliberately expose iPhones to moisture. In general, though, the iPhone XS, iPhone XS Max, and iPhone XR will hold up to accidental splashes of water and rain.
The Apple Watch Series 4, also newly announced, continues to feature the same water resistance rating as the Apple Watch Series 3. It has a water resistance of rating of 50 meters under ISO standard 22810:2010.
That means the Apple Watch Series 4 is suitable for shallow-water activities like swimming in a pool or an ocean, but it should not be used for scuba diving, waterskiing, or other activities that involve exposure to deep water or high-velocity water.