Apple Debuts New AppleCare+ Theft and Loss Plan Priced at $299 for iPhone XS and XS Max
Alongside the launch of the iPhone XS, iPhone XS Max, and iPhone XR, Apple has introduced a new AppleCare+ plan that's designed to protect against theft and loss.
AppleCare+ with Theft and Loss is priced at $299 (or $14.99 per month over 24 months) for the iPhone XS and XS Max and allows for two incidents of accidental damage, theft, or loss coverage, so long as the purchaser pays the deductible.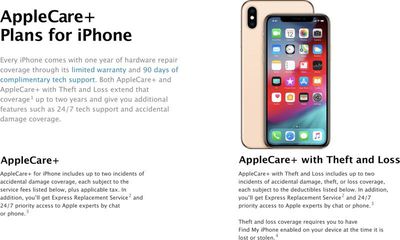 As with regular AppleCare+, Apple will repair accidental damage for $99, but a lost or stolen phone will be more expensive.
It will cost $199 to get an iPhone 8, iPhone 7, iPhone 6s or iPhone 6 replaced, and $229 to get an iPhone XR, iPhone 8 Plus, iPhone 7 Plus, iPhone 6s Plus, or iPhone 6 Plus replaced.
For a replacement iPhone XS, iPhone XS Max, or iPhone X, customers will need to shell out $269. Getting a new iPhone will require the device in question to have Find My iPhone enabled. Disabling the feature voids coverage, according to Apple.
AppleCare+ with Theft and Loss will be available as a purchase option when pre-ordering an iPhone XS or iPhone XS Max this Friday.
It will also be available for the iPhone XR when that device becomes available, and based on the pricing of the plan for the iPhone 8 Plus, it will cost $249 or $12.99 per month for 24 months.
Apple is continuing to sell standard AppleCare+ that offers coverage for two incidents of accidental damage but no theft or loss coverage. Regular AppleCare+ for iPhone XS and iPhone XS Max will cost $199, so the Theft and Loss coverage is $100 more expensive.