Apple Acquires Rights to Two Films: Documentary 'The Elephant Queen' and Animated Cartoon 'Wolfwalkers'
Apple has acquired the global rights to "The Elephant Queen," a feature-length documentary about an elephant matriarch who leads her herd in search of a new watering hole to call home, according to Deadline.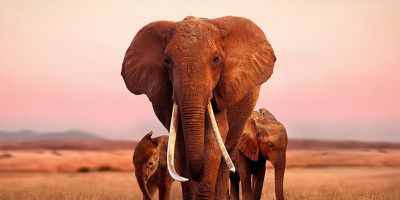 Athena is a mother who will do everything in her power to protect her herd when they are forced to leave their waterhole. This epic journey, narrated by Chiwetel Ejiofor, takes audiences across the African savannah, and into the heart of an elephant family. A tale of love, loss and coming home.
"The Elephant Queen" was screened Saturday at the Toronto International Film Festival, where top executives from Apple's Worldwide Video Programming division are believed to be scouting out films. The documentary is directed by award-winning wildlife filmmakers Victoria Stone and Mark Deeble.
Zack Van Amburg and Jamie Erlicht, two former Sony Pictures Television executives who lead Worldwide Video at Apple, reportedly led negotiations to pick up the documentary from Endeavor Content and Mister Smith Entertainment.
In addition, prior to TIFF, Apple obtained rights to animated film "Wolfwalkers" from Cartoon Saloon and Melusine Productions, according to Deadline. The film, directed by two-time Oscar nominee Tomm Moore and Ross Stewart, centers on a young apprentice hunter named Robyn in a world of superstition.
In a time of superstition and magic, when wolves are seen as demonic and nature an evil to be tamed, a young apprentice hunter, Robyn, comes to Ireland with her father to wipe out the last pack. But when Robyn saves a wild native girl, Mebh, their friendship leads her to discover the world of the Wolfwalkers and transform her into the very thing her father is tasked to destroy.
Bloomberg News first reported about a potential animated film deal between Apple and Cartoon Saloon back in June.
Apple has been steadily expanding its slate of original content in the pipeline, but these deals are particularly notable, as they represent the first two films the company has acquired, complementing
nearly two dozen TV series
.
Apple is expected to distribute its original content through a new streaming video service, along the lines of Netflix, starting in 2019.