Lisa Brennan-Jobs Shares Memories of Steve Jobs in New 'Small Fry' Memoir Excerpt
Lisa Brennan-Jobs, Steve Jobs' oldest daughter, is releasing a memoir called "Small Fry" next month, and ahead of the book's release, Vanity Fair has published an excerpt where Lisa-Brennan Jobs shares details on her troubled relationship with her father, his last days, and her early life.
Lisa was born in 1978 to Steve Jobs and Chrisann Brennan, and as is well known, Jobs initially denied that he was her father. He had nothing to do with her until she was two, a story she tells interspersed with facts about the Lisa computer he built. After being forced to take a paternity test and provide child support for Lisa, she finally met him, detailing their first meeting in Menlo Park, California.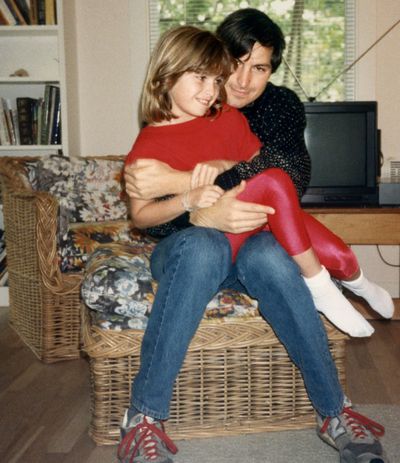 Steve Jobs and Lisa Brennan-Jobs
"You know who I am?" he asked. He flipped his hair out of his eyes.

I was three years old; I didn't.

"I'm your father." ("Like he was Darth Vader," my mother said later, when she told me the story.)

"I'm one of the most important people you will ever know," he said.
Jobs visited Brennan-Jobs more frequently after that, for rollerskating trips, rides in his Porsche, dinners, and hot tub excursions, but the two still had relationship issues. At one point, Brennan-Jobs said that she asked Jobs for his Porsche after hearing a myth that he replaced it whenever it got a scratch, and she received a callous reply.
"You're not getting anything," he said. "You understand? Nothing. You're getting nothing." Did he mean about the car, something else, bigger? I didn't know. His voice hurt--sharp, in my chest.
In another section of the excerpt, Brennan-Jobs explains how the fact that she thought the Lisa computer was named after her made her feel closer to Jobs, but at one point, she asked whether it was truly named after her. "Nope," said Jobs. He later changed his mind when Bono asked at an afternoon lunch Lisa Brennan-Jobs was at.
Then Bono asked, "So, was the Lisa computer named after her?"

There was a pause. I braced myself—prepared for his answer.

My father hesitated, looked down at his plate for a long moment, and then back at Bono. "Yeah, it was," he said.

I sat up in my chair.

"I thought so," Bono said.

"Yup," my father said.

I studied my father's face. What had changed? Why had he admitted it now, after all these years? Of course it was named after me, I thought then. His lie seemed preposterous now. I felt a new power that pulled my chest up.
The rest of the excerpt, available over at Vanity Fair, focuses on Jobs' final months before he passed away, and it is well worth reading for anyone who is interested in intimate details about Steve Jobs' life.
Brennan's book can be pre-ordered from Amazon for $24.70, with a release set for September 4.