Fast Chargers May Require USB-C Authentication to Work at Full Speed With 2018 iPhones
Rumors suggest Apple will bundle a faster 18W power adapter with its next-generation iPhones, expected to be unveiled this September, but third-party fast charger compatibility may be limited.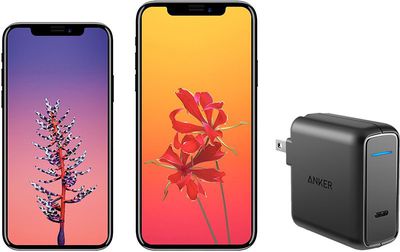 Japanese blog Mac Otakara, citing information from suppliers, claims that third-party fast chargers may require USB-C Authentication [PDF] certification, or C-AUTH, to charge the 2018 lineup of iPhones at full speeds. Otherwise, the iPhones may display a warning, and limit charging speeds to a max of 2.5W.
USB-C Authentication is intended to protect against non-compliant USB chargers and to mitigate risks from maliciously embedded hardware or software in USB devices, so core to Apple, this seems to be all about extra security.
Apple is one of over 1,000 member companies of the USB Implementers Forum, so USB-compliant fast chargers are available from a wide variety of brands. Before purchasing a random fast charger from the likes of Amazon, though, it may be a good idea to check the list to see if the company is in fact a member.