Apple Hosting Live HomePod Question-and-Answer Event on July 25
Have a question about the HomePod?
Apple announced that it will be hosting a HomePod live event in its Support Communities on Wednesday, July 25, providing customers with an opportunity to ask Apple support representatives questions about the Siri-enabled speaker.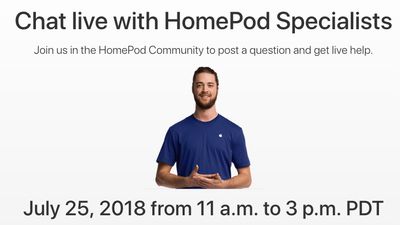 Specialists will be on hand between 11 a.m. and 3 p.m. Pacific Time, answering questions about a variety of topics in real time:
Discover how to make HomePod your own: use AirPlay 2, create a stereo pair, personalize your setup and settings, ask Siri, and more. During this live event, Apple HomePod Specialists will be available to help you get the most from your HomePod.
To participate in the event when it goes live, head to the HomePod Community on the Apple Support Communities, sign in to or create an Apple ID account, click Post > Discussion in the upper-right corner, and submit a question.
Specialists already monitor the Apple Support Communities, and occasionally answer questions, but this event should lead to faster answers.
It'll be interesting to see how this goes.