Apple this week has begun highlighting the impending grand openings of two new retail locations in Milan, Italy and Walnut Creek, California.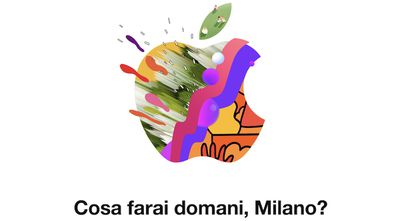 Apple Piazza Liberty in Milan will see a grand opening on Thursday, July 26, and in celebration Apple has put together a collection of colorful pieces of art and photographs created by twenty Italian artists and designers.
On a new webpage on Apple.com, the company highlights the artists and the Apple products they used to create their works. These include product designer Valerio Sommella (iPad Pro, Procreate, and iMac Pro), musician Charlie Charles (iMac), illustrator and animator Stefano Colferai (iPhone X and MacBook Pro), and more.

Every day in Milan, artists and designers reinvent the future. Twenty of them asked what they will do tomorrow, and here are their answers: a snapshot of the city's creative energy.
Apple discovered the artists and incorporated their creations into the tagline of the new store ahead of the grand opening, which visitors can see on nearby barricades: "Cosa farai domani, Milano?" or "What will you do tomorrow, Milan?"

Of course, Apple Piazza Liberty will host a
variety of Today at Apple sessions
, including live music in the location's amphitheater on opening night by musician LIM, a "crazy self-portraits" session with Olimpia Zagnoli on July 27, a photographic laboratory with Piotr Niepsuj on July 28, and a "draw the summer" class on July 29. Local customers can begin signing up for these sessions on July 20.
In the U.S., another Apple retail location will be opening around the same time as the Milan store, this one on Saturday, July 28 in Walnut Creek, California. Opening at 10:00 a.m. local time, the relocated store is taking the place of a former California Pizza Kitchen and will now be named Apple Broadway Plaza.


The former location lacked many of the modern features of Apple's new retail store initiative, so Apple Broadway Plaza will debut with an emphasis as a local community gathering space that can be used for Today at Apple sessions. The building is located in the Broadway Plaza outdoor mall in Walnut Creek, and has been under construction for over a year.
For more on the latest of Apple's retail plans, be sure to visit our Apple Stores Roundup.