Apple Overhauls Leadership Page With Memoji Avatars for Execs Ahead of World Emoji Day
In celebration of World Emoji Day, which takes place tomorrow, Apple today updated its Apple Leadership site to introduce Memoji avatars for all of the key executives listed on the page.
Tim Cook, Angela Ahrendts, Jony Ive, Eddy Cue, Craig Federighi, Luca Maestri, Phil Schiller, and the rest of the leadership team are now represented by Memojis.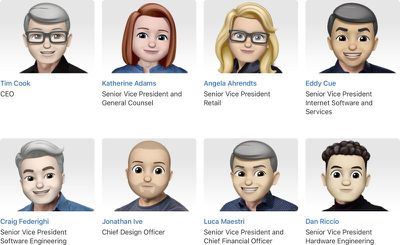 Memojis are an iPhone X feature coming in iOS 12. Similar to Animoji, Memoji are humanoid avatars that can be customized and personalized to look just like you with an array of options.


You can choose skin color, hair color, hair style, eye color, eyebrows, nose, features like freckles and facial hair, accessories, and headwear when creating a Memoji.
Right now, Memoji, like Animoji, are limited to iPhone X, but future devices that include the Face ID camera system will also work with Animoji and Memoji, such as rumored iPad Pro models expected this fall.
To celebrate World Emoji Day, Apple also highlighted the emojis we can expect to see in Unicode 11, which Apple plans to adopt later this year in either iOS 12 or an update to iOS 12.
Upcoming emoji characters include cold face, party face, pleading face, peacock, kangaroo, parrot, and more, along with options for red hair, gray hair, and no hair.