Enthusiasm for interface dark modes appears to be catching. The Verge reports that Microsoft is planning to introduce such a mode to its Outlook.com web mail service, which has around 400 million active users.
The dark mode for Outlook.com is one of the most highly requested features for Microsoft's web mail service, according to listings on the Outlook.com feedback site.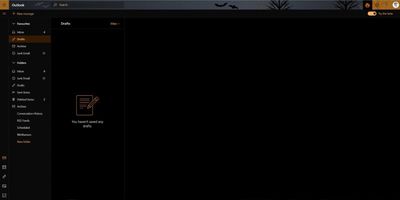 Testing of the new color scheme – reminiscent of last year's Outlook Halloween theme – has been underway over the last few months, according to Microsoft, which has already started teasing the new-look web interface online.
Responding to a feedback post, one Outlook.com team member had this to say:

One reason for the delay is our insistence that we deliver the best Dark Mode of any leading email client (you'll understand when you see it, I guarantee). The sneak preview you saw last year at Halloween was a prototype that required a lot more work to be ready for prime time. We've redesigned the colors and code multiple times and are proud to enter the final stretch.
Many MacRumors readers will no doubt be aware of the desktop Dark Mode that Apple is introducing in macOS Mojave. While the company is yet to have announced a similar mode for iOS, many third-party mobile apps have already adopted the color scheme, including Twitter, Reddit, Twitch, and YouTube.