Apple Shares App Store Retrospective Ahead of 10th Anniversary
Ahead of the App Store's upcoming 10th anniversary on Tuesday, July 10, Apple today shared some App Store history, exploring significant App Store milestones and sharing testimonials from Apple execs, app developers, and more on how the App Store put mobile businesses first, transformed gaming, improved accessibility, bolstered health, revolutionized education, and changed lives.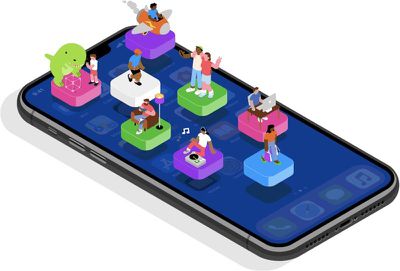 The App Store launched on July 10, 2008 with a total of 500 apps, which Apple says ignited a "cultural, social, and economic phenomenon" that has, over the past decade, created a place for iOS users of all ages to get the best apps. From Phil Schiller, Apple marketing chief:

"In its first decade, the App Store has surpassed all of our wildest expectations -- from the innovative apps that developers have dreamed up, to the way customers have made apps part of their daily lives -- and this is just the beginning. We could not be more proud of what developers have created and what the next 10 years have in store."
Many of the apps available on the first day of the App Store's launch can still be purchased today, including MLB at Bat, The New York Times, eBay, Travelocity, Tap Tap Revenge, and more. Early App Store developers Keith Shepherd and Natalia Luckynova, who created Temple Run, said the App Store changed their lives.
"The App Store and iPhone changed our lives. Our first game, Imangi, launched the day the App Store opened. Fast forward 10 years, and we've created over 10 games, including Temple Run, which has been downloaded over a BILLION times. Our studio has grown from the two of us to a team of 35. None of this would have been possible without the App Store."
Cutting edge technology, explains Apple, has allowed developers and start-ups to create apps that take advantage of Apple Pay, GPS, location services, and more to create "billion dollar businesses" that started with the App Store. Games, too, have become an important part of the App Store. Nintendo director Shigeru Miyamoto said the App Store allows the company to share Nintendo games with new audiences.

"We are very happy that we are able to deliver Super Mario Run, a new Super Mario experience that could be played with just one hand on iPhone, to hundreds of millions of consumers because of the App Store. The App Store allows us to share the joy of Nintendo games with many new audiences, and we will continue striving to provide unique and new game experiences to App Store customers."
Apple also changed gaming and apps with the in-app purchase, allowing people to unlock different functionality and try apps before purchasing. That expanded to subscription apps in 2011, and as of now, 28,000 apps offer subscription options.
The iPad came in 2010, along with apps designed for the larger screen. There are a total of 1.3 million apps created just for the iPad available today, ranging from Lightroom and Microsoft Office 365 to Procreate. Procreate founder James Cuda says the digital art creation app "simply would not be possible without the App Store."
ARKit and augmented reality apps came in 2017, turning iOS into the biggest AR platform in the world. There are more than 3,000 AR apps available on the App Store, and improvements coming in iOS 12, such as multi-person support and persistent experiences, will lead to even better AR apps.


As of June 2018, developers have earned more than $100 billion from the App Store. There are more than 20 million third-party developers registered for the App Store, and more than 500 million customers visit it on iPhone and iPad each week.
Apple in 2017 entirely overhauled the App Store, splitting games and apps into two categories and focusing more heavily on app discovery through Today tab stories, editor's picks, and more. Apple says that hundreds of Today stories have been read by more than 1 million people.


Check out Apple's full App Store tribute in the company's newsroom to see all of the different testimonials from app developers.