Apple Seeds Third Beta of iOS 12 to Developers
Apple today seeded the third beta of the upcoming iOS 12 update to developers for testing purposes, two weeks after seeding the second beta and a month after introducing the new software at the Worldwide Developers Conference.
Registered developers can download the new iOS 12 beta from Apple's Developer Center or over-the-air after installing the proper certificate.
The iOS 12 update introduces significant changes to the iOS operating system, with Apple working from top to bottom to make iPhones and iPads, especially older models, faster and more responsive. In beta 3 specifically, Apple is adding an entirely revamped and rebuilt
Maps app
for the San Francisco Bay Area with a slight design change that will display foliage, pools, buildings, pedestrian pathways, and other map elements more accurately, along with improvements to traffic, real-time road conditions, construction, and more.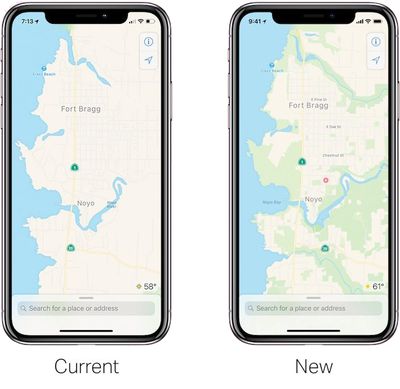 Though limited to the San Francisco area during beta testing, the new Maps features will roll out to all of California when iOS 12 launches, followed by additional locations across the United States.
On the iPhone X, there are new Animoji characters along with "Memoji" customizable, personalized Animoji that can be used both in Messages and in FaceTime. Messages and FaceTime have also gained fun new camera effects, and Group FaceTime support allows for calls with up to 32 people.
Siri is smarter in iOS 12 with a new Shortcuts feature that lets you create custom automations using first and third-party apps that can be activated with Siri, with Apple planning to introduce a dedicated Shortcuts app in the future.
Apple also built a comprehensive set of time management and monitoring tools into iOS 12 with Screen Time, allowing you to keep track of just how much time you're spending on your iPhone and iPad.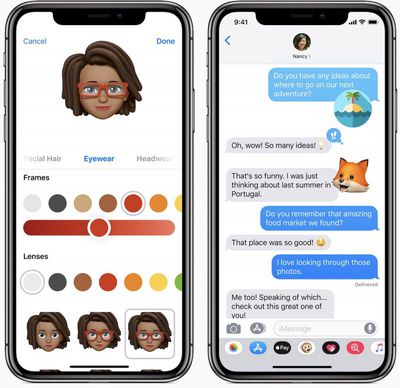 Updated Do Not Disturb options make turning off notifications and distractions easier than ever, with a new Do Not Disturb at Bedtime feature cutting down on nighttime interruptions.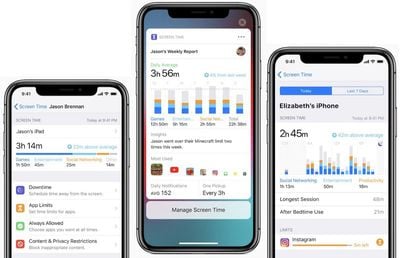 Group Notifications make incoming notifications easier to view and manage, while a new Instant Tuning feature lets you tweak your notification settings on a notification-by-notification basis.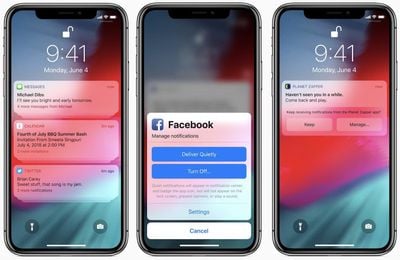 Apple News has a new Browse feature, the Stocks app has been redesigned, iBooks has been overhauled with a new look and a new name - Apple Books - and Voice Memos has been revamped with iCloud support and an iPad app. There's also a new ARKit-based Measure app.
ARKit 2.0 introduces new capabilities like shared experiences that let two people see the same AR environment on separate devices, and persistence, which allows AR experiences to be saved across multiple sessions.
Tons of other small tweaks and features have been added to iOS 12, so make sure to check out our dedicated roundup for additional detail on what's new in iOS 12.
Early betas of new operating system updates always introduce tweaked features and new functionality, and we'll be outlining what's new in the third beta below. We also rounded up all of the changes that were introduced in the previous beta, beta 2.
What's new in iOS 12 beta 3:
Maps - The new Maps design has rolled out in the San Francisco Bay Area on devices running the latest iOS 12 beta.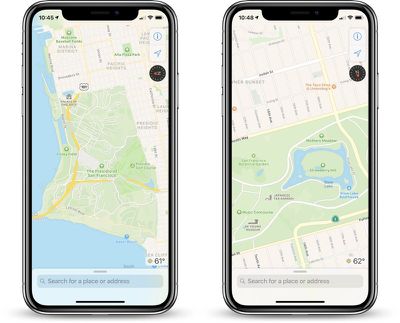 Voice Memos - The Voice Memos app has an updated iPad interface.


Share My Location - Location sharing details have been moved from the Privacy section of the Settings app to a new more prominent location in a user's profile right near iCloud settings.


iPad Notifications - There's an option to clear all notifications on the iPad when long pressing on the X at the top of the list of notifications.
Photos - The list of Media Types in the albums section of the Photos app has been cleaned up a bit and no longer lists categories if you have no photos of that type. For example, if you have no time-lapse photos, the time-lapse media type is not included in the list.
Haptic Feedback - On devices with a Home button and haptic feedback, the Home button no longer buzzes every time the iPhone is unlocked. This was an issue on the iPhone 6s and iPhone 7.