Rogue Amoeba today announced it has updated its audio recording utility Audio Hijack with support for streaming audio to SHOUTcast and Icecast servers, ideal for live podcast recordings, live DJ sets, and internet radio.


Audio Hijack version 3.5 features a new Broadcast block that can stream audio to Shoutcast 2, Shoutcast 1, and Icecast 2 streaming servers in either the popular MP3 streaming format or the more modern AAC streaming format.
By placing multiple Broadcast blocks in one Audio Hijack session, you can create multiple streams for multiple servers, making it easy to offer high and low quality broadcasts, or stream audio in multiple audio formats.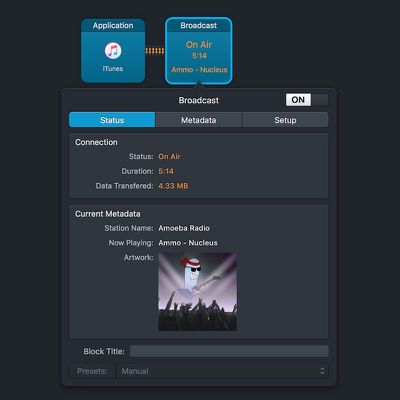 To help beginners get started with broadcasting, Audio Hijack version 3.5 includes a new template for "Internet Radio."
The latest version of Audio Hijack serves as a replacement for Rogue Amoeba's dedicated audio broadcasting tool Nicecast, which the company ceased development of in March, and will stop supporting at the end of 2018.
Rogue Amoeba strongly encourages all Nicecast users to migrate to Audio Hijack for a more modern broadcasting setup with several advantages, including full SHOUTcast 2 support, AAC/AAC+ streaming, the ability to create multiple streams for multiple servers, track titles, and improved accessibility.
Rogue Amoeba notes that the last version of Nicecast, version 1.11.13, works as expected on macOS High Sierra and earlier, but may experience compatibility issues with macOS Mojave. And, as a 32-bit app, Nicecast will eventually not work at all once a future macOS release only supports 64-bit apps.
Audio Hijack version 3.5 is a free update for existing owners of Audio Hijack 3. For new users, a license to the full version costs $59, while users of any older version of Audio Hijack can upgrade for $25. Nicecast users can also save $20 off the purchase of Audio Hijack through the end of 2018.