Nikkei Dubiously Says AirPods Charging Case 'Will Soon Be Able' to Wirelessly Charge an iPhone
An upcoming version of the AirPods charging case will be able to wirelessly charge a compatible iPhone, according to Nikkei Asian Review, although proceed with skepticism, as there's a good chance the report is off the mark.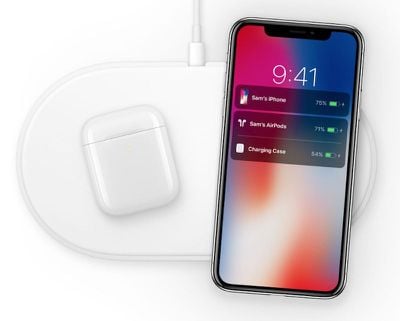 The first paragraph from Cheng Ting-Fang and Lauly Li, in a report titled "Apple to unveil iPhone wireless charging with AirPods":
Users of iPhones will soon be able to wirelessly charge their handsets using the charging case for Apple's popular AirPods wireless earphones, according to an industry source familiar with the plan.
The report claims the charging case could be available as soon as the end of this year, although the timeframe is subject to change.
The report adds:
The development would add to Apple's much-anticipated AirPower wireless charging mat, unveiled last year and due out soon, bringing chief designer Jony Ive's call in 2016 for a "truly wireless future" a step closer. Apple has previously said it is working on a wireless charging case for AirPods that could also be topped up with the AirPower pad, though it gave no further details.
It's not entirely clear if the report is referring to the same AirPods charging case that Apple previewed alongside the iPhone X last year. Apple said that optional accessory will be released in 2018 alongside its AirPower charging mat.
All in all, it's a rather strange report that inspires a lot of questions. Would a user hold or lay their iPhone against the AirPods charging case? The case's current floss-container-like design means that the iPhone would need to be precisely balanced on top of it, if not held together in your hands.
In addition, the AirPods case is and will likely remain too small to adequately charge the latest iPhones. The battery in the current case has a capacity of 398 mAh, roughly 14.6 percent of the iPhone X's battery capacity of 2,716 mAh, limiting its usefulness to emergency or must-have situations.
Is the report backwards? Is it possible some iPhones will be able to wirelessly transfer power to the AirPods charging case on the go? Or, more likely, is the report simply mistranslating the fact that the latest iPhones and the AirPods charging case will be compatible with the AirPower charging mat?
At this point, all we know for certain is that Apple will release both its AirPower charging mat and optional AirPods charging case later this year. According to the reliable Mark Gurman, Apple is aiming to release the AirPower by September, so there's a good chance it'll launch alongside the next iPhones.