Ten One Design this morning debuted the Stella, a premium laptop cord that offers several compelling features over a standard extension cable for the MacBook, MacBook Pro, and other machines.
Made from a flexible fabric-covered material, the Stella has a built-in LED located near the plug prongs that activates when it's near a power outlet, so you can easily plug in your Mac even when it's dark.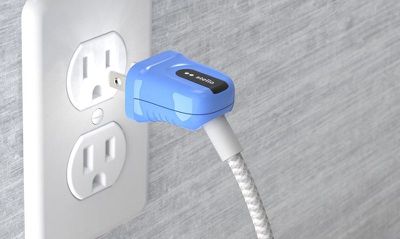 Stella is able to detect faint electrical fields near common electrical receptacles, and when power is detected, the small LED turns on. Ten One Design says the Stella cord is safer to use because it eliminates temptation to feel around near live outlets when you can't see.


Stella is available for Apple's Mac lineup as a replacement for the standard power cable and for various 2-prong PC power adapters. For Macs, you can choose between a blue plug or an aqua plug.


A built-in slide-out clip is included in the version of Stella made for Macs so you can wind up the cable when not in use, storing it right with your power adapter.


Stella laptop charging cables can be pre-ordered from the Ten One Design website for $34.95. Ten One Design plans to begin shipping the cables in July.
In the future, Ten One Design plans to partner with other companies to bring its technology to additional products.