Smart Speaker Owners Aren't Yet Widely Using Them to Control Connected Home Devices
IHS Markit conducted a new survey in March and April 2018, asking 937 smart speaker owners various questions about the usage of their devices, spreading across the United States, United Kingdom, Japan, Germany, and Brazil. According to the findings that have been shared today, just six percent of smart speaker owners used their speakers to command smart home devices like lights, switches, and thermostats.
The speakers and assistants included in the survey were HomePod/Siri, Google Home/Google Assistant, Microsoft Cortana, Bixby, and Amazon Echo/Alexa. The most popular category for smart speaker control for all speakers was asking about the weather and news, followed in descending order by: basic questions, music controls/discovery, sending a message and making a phone call, video controls/discovery, making a purchase, controlling smart home devices, and lastly a "none of these" category.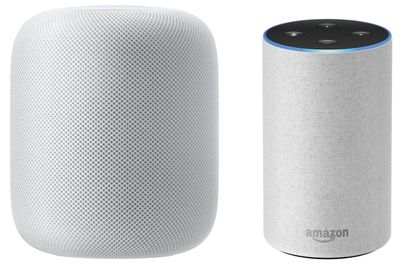 Despite the low usage rates for users interacting with smart home products through their speakers, IHS principal analyst Blake Kozak believes this will change in the near future.

"Controlling smart home devices by voice currently represents only a small fraction of total smart-speaker interactions," said Blake Kozak, principal analyst, smart home, IHS Markit. "However, this category will continue to trend upward as more video-streaming devices come to rely on voice control, as security alarm systems adopt voice control to arm and disarm, and as more builders embed smart devices throughout new homes."
Kozak believes that one area of potential smart home growth will come from insurance companies, who will "play a role" in educating customers about connected devices that could help them in their homes. These include products for water leak detection, flow detectors, and shutoff valves. In total, Kozak predicts more than one million home policies in North America will include at least one connected home device by the end of the year, and 450,000 smart speakers will be connected to insurance companies by that time as well.
In terms of smart assistant usage, Amazon Alexa was the most widely used voice assistant with 40 percent of respondents owning an Alexa device, and 23 percent owning a Google Home device. Siri came in third place, with the most inquiries for Apple's assistant also pertaining to the weather, news, and asking Siri a question.


For HomePod, Apple yesterday launched the smart speaker in Canada, France, and Germany via the Apple online store, Apple Store app, and in its retail locations in each country. HomePod allows users to command Siri to activate or deactivate their personal HomeKit products in the Home app, and represents Apple's first entry in the smart speaker market.