macOS 'Quick Look' Bug Can Leak Encrypted Data Through Thumbnail Caches
A long-standing bug in macOS's Quick Look feature has the potential to expose sensitive user files like photo thumbnails and the text of documents, even on encrypted drives, according to security researchers.
Details on the Quick Look flaw were shared earlier this month by security researcher Wojciech Regula and over the weekend on security researcher Patrick Wardle's blog (via The Hacker News).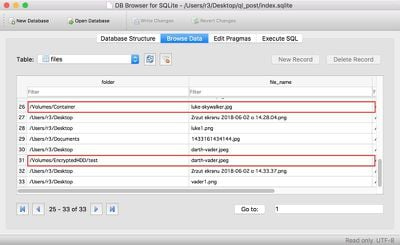 Image via Wojciech Regula
Quick Look in macOS is a convenient Finder feature that's designed to present a zoomed-in view when you press the space bar on a photo or document that's selected.
To provide this preview functionality, Quick Look creates an unencrypted thumbnail database where thumbnails of files are kept, with the database storing file previews from a Mac's storage and any attached USB drives whenever a folder is opened. These thumbnails, which provide previews of content on an encrypted drive, can be accessed by someone with the technical know how and there's no automatic cache clearing that deletes them. As Regula explains:
It means that all photos that you have previewed using space (or Quicklook cached them independently) are stored in that directory as a miniature and its path. They stay there even if you delete these files or if you have previewed them in encrypted HDD or TrueCrypt/VeraCrypt container.
This is an issue that's existed for at least eight years and concerns have been raised about it in the past, but Apple has made no changes in macOS to address it. "The fact that behavior is still present in the latest version of macOS, and (though potentially having serious privacy implications), is not widely known by Mac users, warrants additional discussion," writes Wardle.
As Wardle points out, this information is valuable in law enforcement investigations, but most users are not going to be happy to learn that their Mac records file paths and thumbnails of documents from every storage device that's been attached to it.
For a forensics investigation or surveillance implant, this information could prove invaluable. Imagine having a historic record of the USB devices, files on the devices, and even thumbnails of the files...all stored persistently in an unencrypted database, long after the USB devices have been removed (and perhaps destroyed). For users, the question is: "Do you really want your Mac recording the file paths and 'previews' thumbnails of the files on any/all USB sticks that you've ever inserted into your Mac?" Me thinks not...
It's worth noting that if the main drive on the Mac is encrypted, the Quick Look cache that's created is too. Wardle says that data "may be safe" on a machine that's powered off, but on a Mac that's running, even if encrypted containers are unmounted, the caching feature can reveal their contents.
"In other words, the increased security encrypted containers were thought to provide, may be completely undermined by QuickLook," writes Wardle.
Wardle recommends that users concerned about unencrypted data storage clear the Quick Look cache manually whenever a container is unmounted, with instructions for this available on Wardle's website. It's also worth checking out Wardle's site for full details on the Quick Look bug.