Verizon Named 2018's Fastest Mobile Network in PCMag's Annual Carrier Showdown
Verizon Wireless was awarded the title of the fastest nationwide mobile network in PCMag's annual mobile network comparison, the results of which were released this morning.
For its test, PCMag analysts drove within and between 30 cities in the United States to test mobile network speeds using four Samsung Galaxy S9 phones. More than a dozen locations in each city were tested, with the site gathering more than 124,000 data points to reach its conclusion. Scores were calculated taking into account metrics like download speed, upload speed, latency, reliability, and consistency.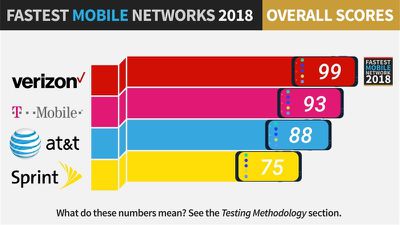 Verizon was named the overall fastest network after it won or tied in 19 of the 36 cities that were tested across the United States, marking Verizon's 5th annual victory.
Verizon won out in almost every region (Northeast, North Central, South Central, Northwest, and Southwest), with the exception of the Southeast, where T-Mobile was determined to be the fastest network. T-Mobile was also named the second fastest network overall, followed by AT&T and then Sprint.
PCMag says that compared to its 2017 results, it saw faster, more consistent LTE connections across all four major U.S. carriers in the 2018 test. In the future, we should see some interesting results as mobile networks are upgraded to 5G. AT&T and Verizon are both aiming for higher speeds in smaller areas, while T-Mobile is aiming for nationwide 5G coverage but at slower speeds.
In addition to determining the fastest mobile carrier in 2018, PCMag also took a look at Speedtest Intelligence results pulled from Ookla to determine the fastest download speeds on modern Samsung and Apple devices.


Samsung's flagship smartphone, the Galaxy S9, equipped with Gigabit LTE and 4x4 MIMO, beat out the iPhone X, which does not have 4x4 MIMO. Of Apple's iPhones, though, the iPhone X saw the fastest upload and download speeds thanks to its adoption of 256QAM (Quadrature Amplitude Modulation), which boosts signal to allow for more data to be transferred at one time.


The full results of PCMag's 2018 mobile carrier speed testing can be found over on the PCMag website.