When Apple released iOS 11, the company removed built-in integration with Twitter, Facebook, Flickr, and Vimeo, a feature that allowed iPhone and iPad users to store their third-party account information and access it within apps that needed to use those services.
The equivalent integration remains in macOS High Sierra, but Reddit user Marc1199 has noted that Apple appears to have removed support for third-party accounts completely in macOS 10.14 Mojave.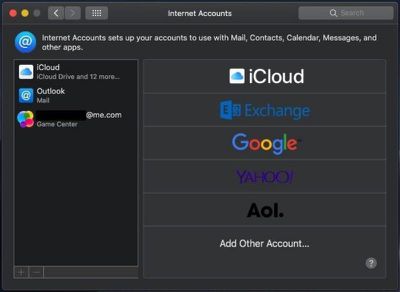 Image via Reddit user Marc119
The image above shows the Internet Accounts preference pane in Mojave, with a distinct lack of OS login options for Facebook, Twitter, LinkedIn, Flickr, and Vimeo.
The removal means that third-party sharing options previously available in Notification Center and other native apps are no longer be available, at least in the latest beta of Apple's new macOS.
Dropping support for third-party social network accounts fits into Apple's vision of enhanced privacy protections in macOS 11.14 and iOS 12, both due to release in the fall. In the meantime, users running macOS High Sierra can remove lingering third-party accounts from their Macs with the help of our how-to guide.