Apple Pulls watchOS 5 Beta 1 From Developer Portal After Reports of Bricked Devices
Apple appears to have temporarily pulled the first watchOS 5 beta from its website after some users reported cases of the software bricking Apple Watch devices.
Several users on the MacRumors forums and over on Reddit have expressed problems trying to get the software onto their devices, with freezes reportedly occurring during the installation phase, particularly on Apple Watch Series 2 models.
Apple has obviously deemed the issues to be sufficiently widespread for it to take action. As such, developers accessing Apple's beta software download portal are currently unable to get a download link and are instead met with the following message: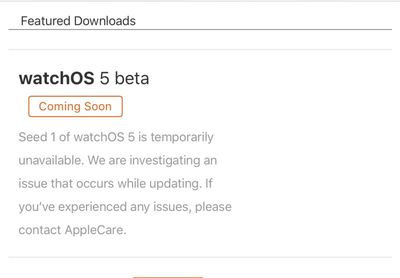 Seed 1 of watchOS 5 is temporarily unavailable. We are investigating an issue that occurs while updating. If you've experienced any issues, please contact AppleCare.
Both the watchOS 5 configuration file and the over-the-air update have been removed, and right now it's unclear when they will return.
As is often the case, initial software beta releases can be susceptible to bugs and issues which only reveal themselves during device propagation. We'll update this article when Apple fixes the problem and makes a revised version of the beta available once more.