With one day to go before Apple's WWDC keynote, scheduled to begin at 10 a.m. Pacific Time, some developers have been sharing the contents of their conference swag bags on social media. Like last year, the items include a Levi's denim jacket and a collection of Apple-themed enamel pins.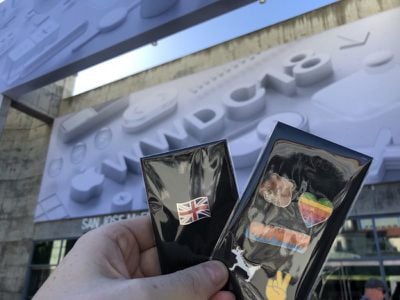 Apple introduced the popular pin packs at WWDC 2017 and kicked off collections with the old rainbow-themed Apple logo, the "hello" Mac greeting, the Swift and Metal logos, the original Macintosh, and emojis. Attendees also received a flag pin of their home country.
This year Apple has added several new pins to the mix, including an Animoji bear, a "mind-blown" emoji, a peace sign emoji a dogcow, and a California pin, amongst others.
The Levi's trucker jacket comes in black, includes fits and sizes for both men and women, and has two interior pockets large enough to fit an iPhone 8 Plus.


In a subtle change from last year, Apple has ditched the usual embroidered WWDC logo on the jacket and gone for a small WWDC 2018 pin instead, allowing owners to remove any reference to the conference if they so wish.
MacRumors will be in attendance at the keynote, with live coverage of the event beginning shortly after 8:00 a.m. Pacific Time. Stay tuned to MacRumors.com and our @MacRumorsLive account on Twitter. We've also put together a guide explaining all the ways you can watch Apple's WWDC18 Keynote live as it happens.