Apple Commemorates Memorial Day With 'Remembrance Table' at Apple Park
This Monday, May 28 is Memorial Day in the United States, which commemorates individuals who died while serving in the armed forces. In an effort to honor the day, Apple CEO Tim Cook shared an image on Twitter this morning, explaining one way that the company will remember those we've lost in active military duty.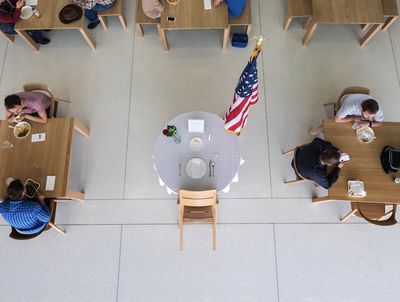 This week at Apple Park, a Remembrance Table honors the men and women of our armed forces who made the ultimate sacrifice in service to their country. They will never be forgotten. #MemorialDay pic.twitter.com/dobmWcLZcN — Tim Cook (@tim_cook) May 25, 2018
In Apple's latest campus, Apple Park, employees have set up what Cook describes as a "Remembrance Table," which he says "honors the men and women of our armed forces." The Remembrance Table has been set up in Caffè Macs at Apple Park, sitting among tables where Apple employees gather to eat their lunch and other meals.
For the federal holiday on Monday, Apple typically gives many of its corporate employees the day off, but some of its retail locations will remain open across the country. On Monday you'll be able to use Apple's Find a Store web tool to see if locations near you are open for the day.