OnePlus Again Pokes Fun at Apple's Headphone Jack Removal During OnePlus 6 Announcement
OnePlus today announced the launch of its latest flagship phone, the OnePlus 6, and the company couldn't resist taking yet another jab at Apple and its decision to remove the headphone jack from its flagship iPhones.
During the event, OnePlus introduced new $69 OnePlus Bullets Wireless headphones that are shipping alongside the new OnePlus 6. "Just one thing though. I wonder. If you can connect your earphones using Bluetooth, you don't need a headphone jack anymore, do you?" said Carl Pei, OnePlus co-founder.
Pei's headphone jack joke starts at 1:14:00
Pei was making a joke at Apple's expense, as despite the inclusion of Bluetooth headphones with the OnePlus 6, it continues to include a headphone jack. "And yes, there's still a headphone jack," Pei said during the unveiling of the OnePlus 6.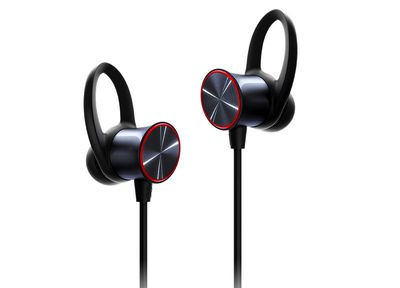 OnePlus made a similar joke on stage last year, after Apple eliminated the headphone jack from the iPhone 7 and the iPhone 7 Plus, a move that proved to be unpopular with some customers despite the introduction of the AirPods.
"On the bottom, you'll notice that we ditched the 3.5mm headphone jack. The elegance of the overall design is instantly heightened. And who needs a headphone jack anyway? That's why Bluetooth exists, right? Just kidding. Of course the OnePlus 5 has a headphone jack."
Design wise, though it includes a headphone jack, the new OnePlus 6 takes other design cues from the iPhone X, like many Android smartphones this year. It features a 6.28-inch AMOLED display with minimal bezels and a notch at the top to house the front-facing 16-megapixel camera, along with a glass body. There are two vertically positioned cameras at the rear of the device.


Inside, the OnePlus 6 sports a Qualcomm Snapdragon 845 processor, 6GB to 8GB RAM, and a minimum of 64GB of storage. It comes with facial recognition capabilities, which the company says uses more than 100 identifiers for security purposes, and it also features a fingerprint sensor at the back. Other features include support for dual SIM cards, fast charging, rain resistance, and the ability to run the latest versions of Android, including the current Android P beta.


Pricing on the OnePlus 6, which launches on May 22, starts at $529. The device is available in several colors, including Mirror Black, Midnight Black, and Silk White. The OnePlus Bullets will be available on June 5 for $69.