Google Assistant Gaining Support for Multiple Requests and Continued Conversations, Will Be Able to Make Phone Calls for You in the Future
Google today hosted its annual I/O conference designed for developers, where the company had several new announcements to share related to AI, Google Assistant, and machine learning.
Google announced the launch of its next-generation machine learning chip, the TPU 3.0, which is powering many AI improvements to Google products using machine learning techniques.
Gmail, for example, is gaining a new smart compose feature that will suggest full phrases for you as you type. Pressing the tab key will insert the suggested phrase, cutting down on the amount of typing that you need to do in Gmail.
In the next couple of months, Google Photos will get Suggested Actions, offering contextual functions for you to act on. For example, if you have a photo with a friend in it, Google Photos will suggest sending the photo to the friend. If a photo is underexposed, Google will suggest a fix that can be initiated with one tap. It can also do things like remove the background color from an image, or colorize a black and white photo.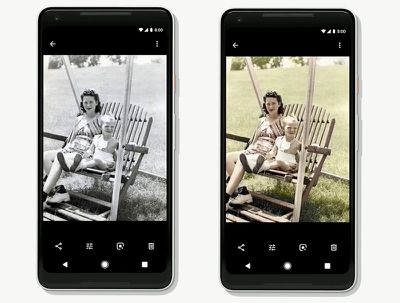 Multiple improvements are coming to Google Assistant, Google's version of Siri. Google Assistant is gaining six new voices, including John Legend's Voice, and there have been improvements to the assistant's understanding of the social dynamics of conversations.
Continued conversations will be supported in the coming weeks, which means you won't need to say the Ok Google activation phrase for every request. Instead, you can say it once and then follow up a request with additional questions that Google Assistant will be able to understand.


As of today, Google Assistant will be able to respond to questions that include two requests at once, and later this year, parents will have the option of turning on a "Pretty Please" feature that's designed to teach children manners by offering positive reinforcement for polite conversations that include please and thank you.
Google has been working with companies like Starbucks, DoorDash, Domino's, and other restaurants for Google Assistant integration, and Google Assistant will also be added to Google Maps for navigation purposes this summer. Google also plans to roll out its visual assistant, which works hand in hand with Google Assistant to offer up information, on iOS and Android later this year.
Google also unveiled a new Google Duplex feature, which lets Google Assistant make actual phone calls to businesses to do things like schedule appointments and make reservations. In a demo on stage, for example, Google Assistant called a real salon and made an appointment in a natural-sounding conversation.


This feature is rolling out later in the year, but Google will add it on a small scale in the coming weeks. Google Assistant will be able to call businesses for holiday hours, using that information to update information in Google search for all users. Google has examples of Google Duplex conversations on its AI blog.
Google unveiled a revamped Google News app with personalized news suggestions, "Newscasts" that offer up news previews from multiple sources, a "Subscribe with Google" option that lets you access paid content from subscription news sites, and several other new features. It's rolling out on Android and iOS devices next week.


Other new features include Morse code support for the Gboard keyboard with text output and solutions for Accessibility purposes, an Android Dashboard for digital well-being that will let Android users know how much time they're spending on the phone and which apps they're using most, and warnings on YouTube that will tell users to take a break.