Apple's MacBook Pro vs. Microsoft's Surface Book 2
One of Apple's biggest competitors in the laptop space is arguably Microsoft, with its line of portable, productivity-focused Surface Book machines. Microsoft in November released its newest product, the Surface Book 2, a 2-in-1 PC that has quite a few selling points to entice Apple customers.
In our latest YouTube video, we took a look at the 15-inch Surface Book 2 and compared it to the 2016 15-inch MacBook Pro across a number of categories including build quality and design, key features, and overall usage experience for someone in the Apple ecosystem.
Both the Surface Book 2 and Apple's most recent MacBook Pro models are powerful machines with some of the latest technology in processor and graphics cards, so modern apps, games, and other software features run well on either device.
The Surface Book 2 and the MacBook Pro are both well-built with attractive, eye-catching designs, but there are some major differences here. While the MacBook Pro is a traditional laptop with a display and attached keyboard, the Surface Book 2 is a 2-in-1 with a touch display that can be converted into a tablet.
Because of its 2-in-1 design, the Surface Book 2 has an unusual hinged design that lets the display be folded backwards or disconnected from the keyboard entirely for use in a tablet mode. The MacBook Pro, meanwhile, has no touch screen and it is a unibody machine.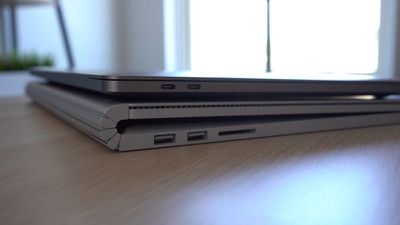 Microsoft's Surface Book 2 has a wealth of ports that are missing from the MacBook Pro, which only offers 4 USB-C ports (albeit with Thunderbolt 3). The Surface Book 2 has an SD card slot, a USB-C port, and two USB-A ports, something that Apple users unhappy with the MacBook Pro port situation will appreciate.
The Surface Book 2 may have a 3240 x 2160 touch screen display, but it has some faults compared to the MacBook Pro's 2880 x 1800 display. It's nowhere near as bright, and it's also not quite as crisp. As for the trackpad, the MacBook Pro wins out because of its large trackpad equipped with haptic feedback and support for multiple gestures. Trackpad is one area where PC laptops often lag behind Apple, and the Surface Book 2 is no exception.


When it comes to the keyboard, the Surface Book 2 has a softer keyboard that's not quite as clicky and solid as the keyboard of the MacBook Pro, but as we well know, the keyboard redesign on the 2016 and 2017 MacBook Pro models has been receiving a lot of attention lately for reliability issues and its seemingly frequent failures, so the Surface Book 2 may have the edge here.
The aforementioned 2-in-1 tablet option for the Surface Book 2 is something Apple just can't compete with. You can press a key on the Surface Book 2's keyboard and pull the display right out of the keyboard to use it as a standalone touch-based tablet with the Surface Pen and the Surface Dial, both of which are ideal for creative tasks.


There are no input devices like a Surface Pen available for the MacBook Pro, and the main feature that it can boast over the Surface Book 2 is the Touch Bar, something that arguably does not get as much use as a 2-in-1 design.
The Surface Book 2 has a lot of perks that aren't available on Apple's MacBook Pro, but choosing to adopt the machine over an Apple device is still going to be difficult for those enmeshed in the Apple ecosystem. There's a lot of integration between macOS and iOS, and features like Continuity, Handoff, and iCloud will be missed if you're used to Apple devices. Certain software, like Final Cut Pro, is also limited to Apple's machines.
So which one is better? As with a lot of devices that are similar in specs, it's tough to say. It largely comes down to preference - do you want to use macOS or Windows? Most people in the Apple ecosystem likely won't want to give up macOS/iOS perks for the Surface Book 2's feature set, but those who don't use a lot of crossover functionality won't miss macOS as much.


If you're not tied to a specific operating system and don't mind mixing devices across different platforms, Microsoft's Surface Book 2 is absolutely worth considering as a powerful, capable machine that offers functionality you can't get in a MacBook Pro.
Would you switch from an Apple machine to the Surface Book 2? Let us know in the comments.