Barclays Predicts 2018 iPhones Won't Come Bundled With Lightning to Headphone Jack Adapter
Apple's widely rumored trio of new iPhone models expected to launch in September might not include a Lightning to 3.5mm Headphone Jack Adapter in the box, according to Barclays analyst Blayne Curtis and his associates.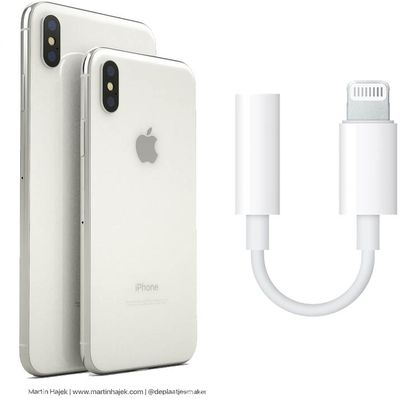 "We currently model no dongle this year," the analysts predicted, in a research note obtained by MacRumors today.
Cirrus Logic would be the primary loser within Apple's supply chain, as a supplier of audio-related components inside of the adapter. Barclays has lowered its quarterly and yearly revenue guidance for the company by up to five percent, for the time being, but that could change if they hear otherwise.
At this point, it appears that the Barclays analysts are merely guessing that the adapter will no longer be bundled, as in previous research notes, they have mentioned it may take until May or June to find out for certain.
Barclays does have some credibility in this area, as last year, the investment bank accurately predicted that Apple would continue to include the adapter in the box alongside the iPhone 8, iPhone 8 Plus, and iPhone X. The analysts routinely visit with Apple's supply chain partners in Asia to gather information like this.
"We believe it stays this year but goes away at some point, potentially in the 2018 model," the analysts said back in April 2017.
Apple eliminating the headphone jack starting with the iPhone 7 was a controversial decision, but the adapter has at least helped ease the transition. Its inclusion has always felt temporary, and as AirPods and other wireless headphone become more widespread, Apple may no longer feel the need to bundle the dongle.
Apple still sells the Lightning to 3.5mm Headphone Jack Adapter for $9 as a standalone accessory, which is cheap by its standards, so customers that prefer to use wired headphones won't be forced to pay too much extra whether the adapter is removed from the iPhone box this year or at a later time.