Apple Maps Vehicles Have Now Collected Street View Data in Over 40 States and 10 Countries
Apple Maps vehicles equipped with LiDAR equipment have now surveyed at least 41 states in the United States, with recent areas including Maine and Iowa, as the fleet of vans continue to collect mapping data across the country.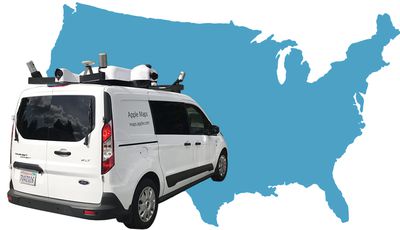 Image via MacRumors forum member AngerDanger
The vehicles first took to the streets in major American cities like New York in 2015, and they have since traveled to Croatia, France, Ireland, Italy, Portugal, Slovenia, Spain, Sweden, and the United Kingdom. Apple periodically updates a
list of locations
where the vehicles will be collecting data on its website.
Apple's page notes that it will "blur faces and license plates on collected images prior to publication," suggesting that the company is working on a feature similar to Google's Street View for Apple Maps.
Back in 2015, Mark Gurman reported that Apple planned to launch a 3D street view feature, based on a combination of its existing Flyover mode with street-level data. He also said the data would help Apple shift to an in-house mapping database by 2018, reducing its reliance on third-party sources like TomTom.
At the time, Gurman said Apple did not believe that Google's classic Street View interfaces were intuitive to users, and as a result, he said the company was exploring new ways to present that kind of imagery.
Google launched Street View way back in 2007, so if Apple is truly working on its own competing feature, then it will presumably have points of differences. Otherwise, it is certainly possible that the vehicle-collected data will only be used for storefront imagery or other underlying mapping improvements.
When Apple's fleet of vans first hit the streets, it was speculated they could be the basis of an Apple Car. But those rumors quieted down after the vans were labeled with Apple Maps decals, and because Apple has shifted towards testing self-driving software with Lexus 450h SUVs near its headquarters in California.
It's too early to say when Apple will fully take advantage of the data it has collected, but with parts of at least 80 percent of the United States now surveyed, the fruits of the labor could be witnessed sooner rather than later.