Netflix today added a slew of 30-second video trailers to its iOS app, after limited testing of the feature since early March.
Optimized for mobile, the trailers ape the look of Snapchat and Instagram Stories, appearing as circular icons on the app's main screen and playing back in a vertical format on iPhones. Netflix offered its rationale for the feature in a blog post on its website: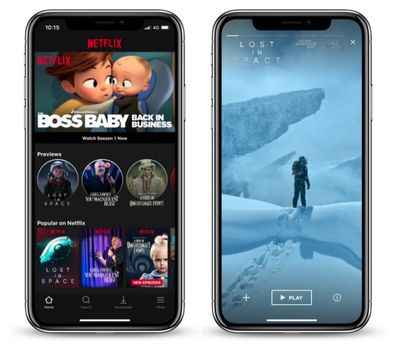 Today, we are excited to introduce mobile previews (launching today on iOS and coming soon to Android) to the mobile experience. Mobile previews present members with a fun, simple, and easy way to learn about all the new content on Netflix -- and find something great to watch even faster.

Years of testing has made it clear that video previews help our members browse less and discover new content more quickly. With the launch of mobile previews, we are bringing a video browse experience to your mobile phone in a fun and mobile-optimized way.
While watching a trailer, users can tap to play the content being previewed, get more information on it, or add it to their Watch Later list. Tapping the video or swiping across it also skips to another trailer without having to return to the main screen.
The company introduced video previews to its TV and web interface last year, but Netflix says around a fifth of all viewing occurs on mobile devices, which is why previews will be a permanent feature of the app going forward. Currently in the list are 75 custom-crop previews for both original and licensed content, with Netflix expected to add more in future.
Netflix exceeded Wall Street expectations this week by adding 7.4 million new subscribers between January and March, giving it a total of 125 million paying subscribers worldwide – far more than Amazon and Hulu.
The service is now available in 190 countries, and users of the streaming service can expect a crop of new television shows from around the world to debut this year, including a six-part British series called The English Game, a look into the invention of football, written by the creator of Downton Abbey. Netflix says several newly announced movies will also be added in 2018, along with new seasons of existing series, such as Glow.