Apple Releases Second Beta of iOS 11.4 for Public Beta Testers
Apple today seeded the second beta of an upcoming iOS 11.4 update to its public beta testing group, two weeks after seeding the first beta and three weeks after releasing iOS 11.3, the last major update to the iOS 11 operating system. Today's public beta is identical to the developer beta that was provided to developers earlier this week.
Beta testers who are members of Apple's beta testing program will receive the iOS 11.4 beta update over-the-air after installing the proper certificate on an iOS device.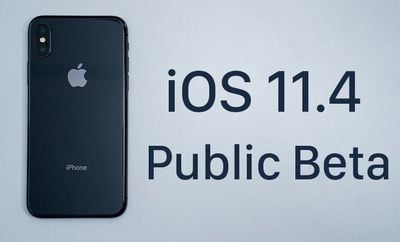 Those who want to join the beta testing program can sign up on Apple's beta testing website, which gives users access to iOS, macOS, and tvOS betas. iOS betas are not always stable and should not be installed on a primary device.
The iOS 11.4 beta is much like the iOS 11.3 beta because several key features that were removed from iOS 11.3 ahead of its release have been reintroduced in iOS 11.4.
The update includes support for AirPlay 2 features, allowing you to play the same song on multiple devices and adding the Apple TV and speakers connected to AirPort Express to the Home app.
iOS 11.4 also reintroduces Messages on iCloud. Messages on iCloud was present throughout the iOS 11.3 beta testing period, but it did not make it into release. With Messages on iCloud, your iMessages are stored in iCloud rather than on each individual device, allowing for improved syncing capabilities. Currently, incoming iMessages are sent to all devices where you're signed in to your Apple ID, but there is no true cross-device syncing.
Messages on iCloud will allow you to download all of your iMessages on new devices, and a message deleted on one device will remove it on all devices. Older messages and attachments are also stored in iCloud rather than on-device, saving valuable storage space.
The most recent beta introduces new (PRODUCT)RED wallpaper on the iPhone 8 and 8 Plus and it removes mentions of stereo sound on the HomePod that were present in the first beta.