Google has reportedly been working on a design overhaul of its Gmail interface on the web, and today The Verge obtained a collection of images that show off this redesign. The new look of Gmail is said to currently be in testing within Google and "with trusted partners."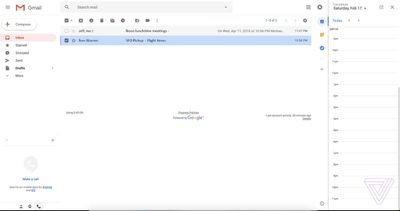 Images via The Verge
According to the new images, Gmail for the web will update to fall in line with Google's mobile Gmail apps, including some elements of the company's
Material Design
. One of the major visual differences is a new sidebar that provides multiple options for customization. Users can choose to add Google Calendar, Google Keep, or Google Tasks in the side window, or collapse it completely and focus only on their inbox.
Along with Material Design and the sidebar, The Verge noted that Google is adding three new layouts for Gmail users to pick from:

Google is providing three new layouts to choose from, including a default view that highlights attachments like documents and photos, a comfortable view that doesn't highlight attachments, and a compact view that increases the amount of messages you can see on a single page. The compact view is the most similar to the existing Gmail design, allowing existing users to keep a similar layout.
There will also be two new additions coming to the web called smart replies and snooze, both taken from the Inbox by Gmail app. Smart replies is also on the basic iOS and Android Gmail apps, providing users with straightforward replies for quickly responding to emails. Snooze lets users temporarily remove emails and reminders from their inboxes until they want them to reappear.


The internal test of the Gmail update is believed to expand to G Suite and Gmail users "in the coming weeks."