Apple today released Final Cut Pro version 10.4.1, the latest update to its professional video editing software that it previewed last week.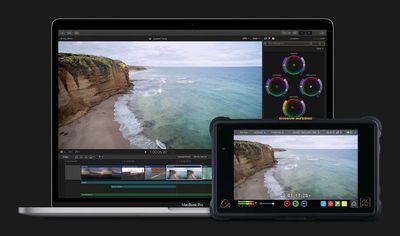 The update is available from the Mac App Store free of charge for existing users, while Final Cut Pro remains $299.99 for new users in the United States. The update may still be in the process of appearing for some users.
Final Cut Pro 10.4.1 introduces a new ProRes RAW format, which combines the visual and workflow benefits of RAW video with the performance of ProRes, a lossy video compression format developed by Apple for post-production.
With ProRes RAW, editors can import, edit and grade pristine footage with RAW data from the camera sensor, providing ultimate flexibility when adjusting highlights and shadows — ideal for HDR workflows. And with performance optimized for macOS, editors can play full-quality 4K ProRes RAW files on MacBook Pro and iMac systems in real time without rendering. ProRes RAW files are even smaller than ProRes 4444 files, allowing editors to make better use of storage while providing an excellent format for archiving.
The update also adds advanced closed captioning tools that allow video editors to view, edit, and deliver captions from right within the app.


Apple says Final Cut Pro users can import closed caption files directly into their project or create them from scratch. Captions appear in the viewer during playback and can be attached to video or audio clips in the timeline, so they automatically move with the clips to which they're connected.
Final Cut Pro 10.4.1 release notes:

Closed Captions
• Import caption files into a Final Cut Pro project to automatically create time-synced, connected captions in the timeline
• See captions directly in the Viewer
• Use the Inspector to adjust text, color, onscreen location, and timing
• Create captions in multiple languages and formats in the same timeline
• Use the new Captions tab in the Timeline Index to search text, select captions, and quickly switch between different versions of your captions
• Attach captions to audio or video clips in the timeline
• Extract embedded captions from video to view and edit the captions directly in Final Cut Pro
• Send your project to Compressor in a single step, making it easy to create a compliant iTunes Store package with audio and video files, captions, and subtitles
• Validation indicator instantly warns about common errors including caption overlaps, incorrect characters, invalid formatting, and more
• Embed captions in an exported video file or create a separate caption sidecar file
• Share captioned videos directly to YouTube and Vimeo
• Support for CEA-608 and iTT closed caption formats
ProRes RAW
• Support for ProRes RAW files lets you import, edit, and grade using pristine RAW image data from the camera sensor
• RAW image data provides ultimate flexibility when adjusting highlights and shadows — ideal for HDR workflows
• Enjoy smooth playback and real-time editing on laptop and desktop Mac computers
• Highly efficient encoding reduces the size of ProRes RAW files, allowing you to fit more footage on camera cards and storage drives
• ProRes RAW preserves more of the original image data, making it an ideal format for archiving
• Work natively with ProRes RAW or ProRes RAW HQ files created by ATOMOS recorders and DJI Inspire 2 drone
Enhanced export
• The new Roles tab in the share pane displays title, video, and audio roles in a single, consolidated interface
• Quickly view and choose roles to be included in exported video files
• Roles settings and enabled/disabled states from the timeline are carried through to the share pane
• Embed closed captions in a video file or export a separate captions sidecar file in CEA-608 and iTT formats
Apple has also updated Final Cut Pro's companion apps Motion and Compressor with ProRes RAW and closed captioning features respectively. Likewise, the updates are now rolling out on the Mac App Store.