Sixth-Generation iPad Teardown Details 'Repair Nightmare' for Education-Focused Tablet
iFixit today published its teardown of Apple's sixth-generation, education-focused iPad and found that -- unsurprisingly -- the tablet shares many of the internals of the fifth-gen iPad. The teardown crew also looked at the new iPad's potential for durability and repairability in an education environment by comparing it to competitors in the field.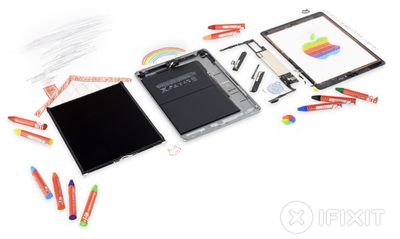 Images via iFixit
The new iPad's lack of waterproofing, non-replaceable charging port, zero upgradeability, and use of glue throughout the internals added up to a "repair nightmare." iFixit then pointed towards the
HP Elite x2 1012 G1
tablet, which got a perfect repairability score of 10 out of 10, summarizing that "Apple's 'education' iPad is still a case of won't — not can't."
Looking into the iPad's internals, the two major updates in the new tablet are an upgraded A10 processor and Broadcom chips for Apple Pencil support. iFixit got a peek inside the iPad using Creative Electron's X-ray imaging software, discovering "only minor differences" when compared to a similar X-ray of the previous iPad.


One of the iPad's advantages in terms of repairability comes in the form of its digitizer panel easily separating from the display. iFixit pointed out that in the event that either component should break, repair will be easier for schools and educators.

In the education space, Apple has some stiff competition in the form of low-cost, Google-powered laptops. How does this iPad, er, stack up against a Chromebook from HP or Asus? Given that schoolkids can be a bit rough on their electronics, here's an iFixit take on it:

iPad's glued-glass display is more vulnerable to drops. Thankfully, this is the one iPad that retains an air-gapped digitizer panel—not as visually impressive as other recent iPads, but it's much cheaper to replace cracked glass that isn't LOCA-bonded to the display panel underneath. Separate accessories like the keyboard and Pencil add to the cost and are easier to lose—but are also easier to replace if damaged. (Note the missing key on our HP's keyboard.)
Eventually, iFixit got down to the logic board and discovered the iPad's A10 Fusion processor and two Broadcom touch screen controller chips, previously found in the 10.5-inch and 12.9-inch iPad Pro models. iFixit theorized that the new iPad's Apple Pencil support "comes in part thanks to this "Pro"-grade chip."
The sixth-gen iPad has the same battery as the previous model, with 32.9 Wh capacity. iFixit noted that while this allows Apple to reuse existing manufacturing lines to reduce waste, the battery is still locked behind a "repair-impeding adhesive" that greatly reduced the iPad's repairability score. Apple has provided easy battery removal before, in the 12.9-inch iPad Pro, but iFixit hasn't seen anything like it since.
Ultimately, iFixit gave the 2018 iPad a repairability score of 2 out of 10, favoring the fairly easy repair options of its air-gapped, non-fused display and digitizer glass, but taking marks off for its heavy use of adhesive and sticky tape. To read the full teardown, visit iFixit.com.