Dozens of Popular Apps Still Don't Natively Support iPhone X, But Updates Are Coming Soon
One of the minor disadvantages of buying an iPhone X early is having to wait for developers to update their apps with support for the smartphone's taller display. Many popular apps were updated within a few weeks after the device launched, but over four months later, there are still some notable omissions.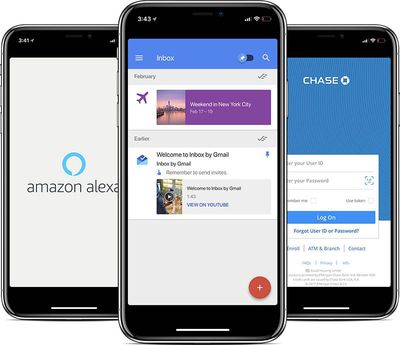 MacRumors recently asked our readers to share their favorite apps that have yet to be optimized for the iPhone X display. Then, we reached out to the developers of each app to ask them if and when they will release updates with iPhone X support. We've included comments from every company that responded below.

Apple
Apple did not respond to multiple requests for comment.
iMovie

iTunes Connect

iTunes Remote

Beats Pill+

AirPort Utility

Music Memos
Google
Google said it does not have anything to share at this time.
Google Authenticator

Google Analytics

Google Admin

Google Street View

Google Wifi

Google Cloud Console

Inbox by Gmail

Chrome Remote Desktop

Snapseed
Microsoft
Microsoft confirmed it is working on updating its remaining apps to be optimized for the iPhone X, but it did not provide a timeframe.
Microsoft Remote Desktop

Microsoft Solitaire Collection

Office 365 Admin
Banking and Finance
Chase — "We constantly evaluate changes in the market while listening to customer feedback and regularly update our mobile app based on that feedback. Watch for an update in the near future."

TD Canada — "The next release of the TD mobile app, expected later this month, will be optimized for the iPhone X display."

National Bank of Canada — "The app will be updated for iPhone X in the coming months."

HSBC

ANZ goMoney Australia

Barclaycard — "We've recently made changes to our app in support of the Face ID feature and we're planning further enhancements to the visual experience to amplify the iPhone X display capabilities."
Fast Food
Domino's — "It will be updated in one of our upcoming app updates. I don't have an exact date."

Pizza Hut — "Pizza Hut is currently developing numerous app enhancements, including optimizing the iPhone X display and other capabilities offered by the phone."

Taco Bell
Sports and Gaming
NBC Sports — "It will happen soon."

PGA TOUR — "We are updating our app on March 20 to support the new iPhone X format."

MLS

Steam

Hearthstone

Candy Crush Soda Saga
TV and Media
NPR News — "We will have an update for iPhone X for the NPR News app on April 2."

NPR One — "The update for NPR One will come later in the summer."

The Economist

IGN

TiVo

Cineplex
Technology
Amazon Alexa — "The Alexa app will be updated and optimized for iPhone X display in the coming weeks."

Linksys — "The update for the Linksys app for iPhone X will be rolling out in the next few days."

OpenVPN — "We are currently developing a new iOS app that will support iPhone X. It will tentatively be released end of April."

HipChat — "HipChat will not be updated for the iPhone X but Stride will be soon."

Harmony Control
Airlines and Travel
Hotels.com — "We will be releasing our update to better support iPhone X shortly."

Virgin Airlines

Emirates

Air France

myChevrolet
Apple recently announced that, starting April 2018, all new iOS apps submitted to the App Store, including universal apps, must support the iPhone X display. The rule doesn't apply to existing apps.