To go along with the new sixth-generation iPad, Apple announced two accessories designed by Logitech -- a $99 Rugged iPad Keyboard Case and a unique $49 Crayon Stylus that shares many characteristics with the Apple Pencil.


The Crayon Stylus looks similar to the Apple Pencil, with a slim aluminum body and an Apple Pencil-style tip. Interestingly, Logitech's website says that the Crayon has been designed for and is compatible with the 6th-generation iPad, suggesting it's not going to work with the iPad Pro.


iMore's Serenity Caldwell was able to get a bit more information on the Crayon from Logitech, and it turns out it's using the same technology as the Apple Pencil. It has the same latency, tilt, and palm rejection features as the Apple Pencil, but there is no pressure sensitivity.
The Crayon connects to the iPad via a single frequency and does not use Bluetooth, and it will last for up to 8 hours before needing to be recharged via an included Lightning port, much like the one on the Apple Pencil. Crayon works with all of the apps that support the Apple Pencil.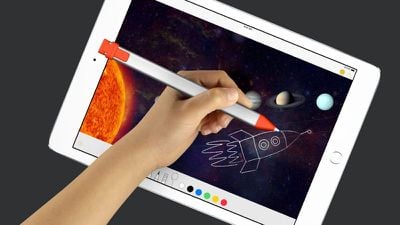 Just press the on button and start writing or drawing on iPad right away -- it's that easy. Logitech Crayon connects to iPad instantly with no complex device pairing or other delays.
There was speculation ahead of Apple's event that a lower-cost Apple Pencil might be in the works given the $99 price point of Apple's device, and it appears that we did indeed get that, but from a third-party manufacturer. Students who have a sixth-generation iPad will be able to use the Crayon or the Apple Pencil with the tablet.


Compared to the Apple Pencil, the Logitech Crayon has a more kid-friendly design with a pry-resistant smart tip that requires a special tool when the tip needs replacing. The rubber cap at the end that covers the Lightning connector is also tethered to the Crayon so it doesn't get lost.


It's not entirely clear why the Crayon is not backwards compatible with iPad Pro models, and we've asked Logitech for clarification.
Logitech does not plan to release the Crayon to the public at this time, with the accessory limited to teachers. Teachers will be able to purchase it for $49 starting this summer.