Live Coverage of Apple's Education Event in Chicago
Apple's "Let's Take a Field Trip" event in Chicago begins at 10:00 a.m. Central Time (8:00 a.m Pacific), where the company is widely expected to unveil a lower-cost iPad, new education-focused initiatives, and perhaps make some other announcements.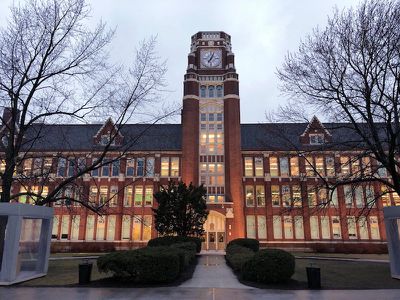 Apple is not providing a live video stream of today's event, but will post the video on its website and the Apple Events app on Apple TV following the event. We will be updating this article with live blog coverage—no need to refresh—and issuing Twitter updates through our
@MacRumorsLive
account as the keynote unfolds.
Highlights from the event and separate news stories regarding today's announcements will go out through our @MacRumors account.
Sign up for our newsletter to keep up with Apple news and rumors.
Apple's education event has concluded. Our live coverage of the announcements is available in chronological order ahead…
7:09 am: Apple has shared a schedule for today's event via CNET. It looks like the keynote will last approximately one hour.


7:28 am: The auditorium is beginning to fill up with attendees. The keynote begins at 10:00 a.m. Central Time, which is just over 30 minutes from now. Photo via CNET's Scott Stein.


7:40 am: FYI: It's currently Spring Break at Lane Tech, so classes aren't in session. 20 minutes to go!


7:47 am: Apple's marketing chief Phil Schiller spotted in the crowd. Apple's event coordinators are wearing yellow beanies.
7:59 am: The lights are now dimming. Apple's event should begin momentarily.
8:01 am: Apple's event begins with a video of children playing in a park and using their imagination.
8:02 am: Apple CEO Tim Cook on stage! "Good morning!"


8:03 am: "We are deeply inspired by the courage of students using their voices to bring about change in America."
8:04 am: Tim Cook says Apple is proud to be in Chicago, which has a forward-thinking education system.
8:06 am: Cook says education has always been an important focus at Apple over its 40-plus-year history.
8:08 am: Cook talks up Apple's educational initiatives, including its Swift Playgrounds app for learning how to code, and Today at Apple sessions at Apple Stores.
8:08 am: Cook says Apple is "also working with 40 STEM organizations around the world to bring coding to even more kids of all backgrounds."
8:10 am: Cook hands the stage to Cathleen Richardson, who is a former teacher and current ConnectED executive at Apple working on educational initiatives.


8:13 am: Richardson describes a story about a teacher who conducted interviews with local World War veterans using iPads. The interviews are headed to the U.S. Library of Congress.
8:14 am: Tim Cook retakes the stage and describes other ways in which iPads are being used in the classroom, such as for writing music and programming drones.


8:14 am: Apple marketing executive Greg Joswiak takes the stage to discuss more about iPad.
8:15 am: Joswiak says there are 200,000 education apps on the App Store.


8:17 am: Joswiak says education apps on iPad "go way beyond browser-based apps," which infers that they are better than Chrome OS apps.
8:19 am: Cassey Williams, a teacher at Woodberry Down Primary School in north London, takes the stage to discuss how the iPad has enabled her to help her students be successful.


8:19 am: Apple introduces a new iPad!
8:20 am: It's a new 9.7-inch iPad with Touch ID.
8:21 am: The new 9.7-inch iPad supports Apple Pencil.


8:22 am: Apple is updating its iWork suite with new versions of Pages, Numbers, and Keynote that support Apple Pencil.
8:22 am: For example, you can use Apple Pencil to add drawings to reports in Pages or Keynote.


8:23 am: The feature for Pages will be called Smart Annotation, but it won't be available immediately.
8:24 am: Apple is discussing digital textbooks next.
8:24 am: iBooks Author is expanding beyond the Mac to iPad.
8:25 am: Greg Joswiak says the feature will be built into Pages on iPad, so it might not necessarily be iBooks Author for iPad, but we should know shortly.
8:26 am: Apple's updated iWork suite will be preloaded on iPads free of charge.
8:27 am: Apple shares tech specs for the new 9.7-inch iPad: 8-megapixel rear camera, FaceTime HD front camera, A10 Fusion chip, up to 10 hours of battery life, Touch ID, up to 300 Mbps LTE, GPS and Compass, Apple Pencil support, accelerometer, and gyroscope.


8:28 am: The new 9.7-inch iPad weighs one pound.
8:28 am: Greg Joswiak says the new 9.7-inch iPad is more powerful than a Chromebook or PC.
8:29 am: Apple is now discussing its augmented reality platform ARKit.


8:31 am: The new 9.7-inch iPad is available today and ships later this week.
8:31 am: There are a few augmented reality demos on stage from Boulevard AR, which focuses on painting with iPad, and Froggipedia by Designmate, which enables students to essentially virtually dissect a frog on the iPad.
8:31 am: The new iPad is priced at $329 for consumers, $299 for schools, which is the same price point as the previous 9.7-inch iPad.


8:32 am: The new iWork suite is available to download today as well. GarageBand for iOS also getting updated with new sound packs for students. And there will be a new version of Clips.
8:33 am: Greg Joswiak moves on to shared iPads. He explains how Apple uses Apple School Manager to create Apple IDs for everyone in a school.


8:34 am: At schools, Apple will now offer students 200GB of iCloud storage for free, up from 5GB previously.


8:35 am: Logitech is introducing new accessories for the new 9.7-inch iPad, including a new $49 drawing tool called Crayon, and a new Rugged Combo case and keyboard for $99.
8:36 am: Apple marketing executive Susan Prescott takes the stage to discuss what the company is doing for teachers.
8:37 am: Apple debuts its Classroom app for Mac.


8:37 am: Classroom for Mac will be available in beta in June, likely coinciding with WWDC 2018.
8:39 am: Apple also introduces Schoolwork, a new, free cloud-based app designed for assigning handouts and tracking student progress.


8:41 am: Schoolwork will also be available in June. Apps integrate with it via Apple's new ClassKit framework.
8:42 am: Apple is now discussing its Apple Teacher training program.
8:43 am: Apple says teachers are about to cross one million virtual badges earned through the program.
8:44 am: Apple invites a teacher Nikole Blanchard on stage to share her experience.
8:46 am: Apple's Susan Prescott is back on stage. She emphasizes the company's "Everyone Can Code" initiative.
8:47 am: Prescott says Swift is the fastest growing programming language. For those unaware, Swift is Apple's open source programming language, which debuted in 2014.
8:48 am: Swift Playgrounds is now localized to 15 languages and available in 155 countries.
8:48 am: Swift Playgrounds is getting a new augmented reality module.
8:50 am: Apple invites another teacher on stage: Kasia Derza from Mariano Azuela Elementary School in Chicago.
8:51 am: Kasia says she teaches coding to students using Swift Playgrounds. She talks up how much students enjoy the app.
8:54 am: Apple's Susan Prescott is back on stage. She says Apple is putting together a brand new curriculum called "Everyone Can Create."


8:54 am: Everyone Can Create will be focused on four areas: music, video, photography, and drawing.
8:56 am: A slide shows that the new 9.7-inch iPad has stereo speakers.
8:57 am: Everyone Can Create is available for preview starting today. More content will be added to the curriculum this summer.
8:57 am: Apple provides a shoutout to the roughly 300 teachers in attendance at the event.
8:58 am: A video titled "what's it like to be a teacher?" is now playing — looks like things are wrapping up shortly.
8:59 am: Tim Cook is back on stage.
8:59 am: "This is an important day for Apple. We hope that it's an important day for students and teachers around the world too."


9:01 am: Cook is summarizing today's announcements, including the new 9.7-inch iPad with Apple Pencil support; augmented reality apps for the classroom; updates to Pages, Keynote, Numbers, GarageBand, and Clips; Everyone Can Code; and Everyone Can Create
9:02 am: Cook reiterates that Apple has been involved in education for 40 years. He says Apple cares deeply about education.
9:02 am: Cook: "This is something only Apple can do."
9:04 am: Apple is playing a video.
9:05 am: The video essentially shows students having fun completing homework. It receives a big round of applause.
9:06 am: Cook returns to stage to thank the City of Chicago and Lane Tech College Prep High School for hosting today's event. He reminds attendees about creative and coding labs that will hosted during the remainder of the day.
9:07 am: That's a wrap! Stay tuned to MacRumors for detailed coverage of today's announcements.