As Apple Plans to Launch New Low-Cost iPad, Google Debuts First Chrome OS Tablet
On the eve of Apple's education-focused event where the company is expected to debut new low-cost iPads, Google and Acer have debuted the first Chrome OS tablet.
The new Acer Chromebook Tab 10 is the first tablet to run Chrome OS, which has previously been available on laptops, desktops, and tablet/PC hybrids.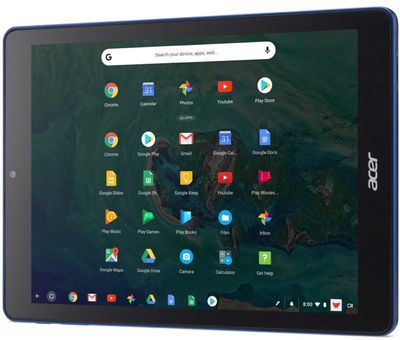 According to Google, the Acer Chromebook Tab 10 is designed to give schools the "easy management and shareability of Chromebook laptops" in a lightweight device that offers touch and stylus functionality along with Google Expeditions AR integration.
It features a 9.7-inch 2048 x 1536 display in a 9 inch by 6.6 inch body that weighs just over 1.2 pounds. Like other Chrome OS devices, it supports Google Play, giving students and teachers access to millions of Android apps, and it can be managed by IT professionals right alongside other Chromebook devices a school might already have in use.


There's a built-in 2-megapixel HD webcam at the front of the tablet, along with two speakers and a microphone. A 5-megapixel rear camera is designed to allow children to capture photos and videos, and it features a 9-hour battery for all-day usage.
Inside, the Chromebook Tab 10 is powered by a 6-core 3399 RockChip processor and it includes 4GB of RAM and 32GB integrated memory. It charges via an included USB-C port that can also power other devices.
Each Chromebook tablet comes equipped with a low-cost Chromebook Wacom EMR stylus that doesn't require charging or pairing. It uses advanced machine learning to "predict student writing for a natural writing experience" with zero-latency digital input for drawing, taking notes, and more.
Chromebooks are popular, easy-to-use low-cost options that many schools have already adopted, which is what Apple has to compete with through its rumored low-cost iPad. Acer plans to sell the Chromebook Tab 10 for $329 starting in April, and that's a price point Apple may be planning to beat.
Rumors have suggested Apple's new low-cost iPad will have a price tag as low as $259, and to match some of the features available with Chrome OS devices, Apple may be planning to include support for the Apple Pencil.
KGI Securities analyst Ming-Chi Kuo said last week that Apple Pencil support is "likely" for the new low-cost iPad. It's not clear if Apple will introduce a lower-cost Apple Pencil to go along with the tablet, though, as the Apple Pencil is currently priced at $99.
Aside from Apple Pencil support and a possible price tag, we don't know much about the tablet that Apple plans to introduce tomorrow, but we don't have long to wait to find out details. Apple won't be live streaming its event, but we'll have coverage here at MacRumors.com and on our MacRumorsLive Twitter account.
For more on what we might see at tomorrow's event, make sure to check out our what to expect post.