Apple CEO Tim Cook attended the annual China Development Forum in Beijing on Saturday, during which he called for stronger data privacy regulations following the "dire" Facebook and Cambridge Analytica scandal (via Bloomberg). Last week, it was revealed that the social network let Cambridge Analytica amass data on 50 million Facebook users without their consent, in an effort to target messages to voters during the 2016 presidential election.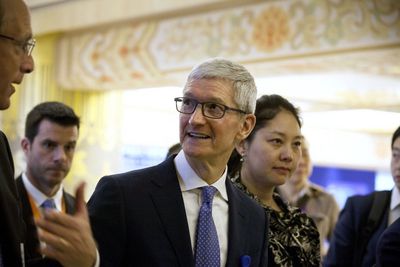 Photo of Tim Cook by Giulia Marchi via Bloomberg
On the topic, Cook called for "well-crafted regulation" to protect users:
"I think that this certain situation is so dire and has become so large that probably some well-crafted regulation is necessary," Cook said after being asked if the use of data should be restricted in light of the Facebook incident. "The ability of anyone to know what you've been browsing about for years, who your contacts are, who their contacts are, things you like and dislike and every intimate detail of your life -- from my own point of view it shouldn't exist."
Cook went on by stating that Apple has "worried for a number of years" that something like the recent Facebook data scandal might happen. "Unfortunately that prediction has come true more than once," he said.

"We've worried for a number of years that people in many countries were giving up data probably without knowing fully what they were doing and that these detailed profiles that were being built of them, that one day something would occur and people would be incredibly offended by what had been done without them being aware of it," he said. "Unfortunately that prediction has come true more than once."
A #DeleteFacebook campaign arose quickly on Twitter following news of Cambridge Analytica's actions, which WhatsApp co-founder Brian Acton took part in. Facebook CEO Mark Zuckerberg made an official statement on the events this past week, saying that the company has "a responsibility to protect your data," and that if it can't "then we don't deserve to serve you." He continued, "We also made mistakes, there's more to do, and we need to step up and do it."
Repercussions have begun to hit Facebook, including a lawsuit from Facebook shareholder Fan Yuan, who alleged the company had some knowledge of Cambridge Analytica's data siphoning and made "materially false and/or misleading" claims regarding Facebook's handling of user data. The first step Facebook has taken to attempt to address the issue is a new tool at the top of the News Feed which will let people see which apps have their info and offer up an easy way to revoke permissions.
In other topics at the Beijing forum on Saturday, Tim Cook also briefly touched upon the recent decision by President Trump to place tariffs on Chinese goods. Although the details on the tariffs have yet to be finalized by the U.S. government, Cook said: "The countries that embrace openness do exceptional and the countries that don't, don't...It's not a matter of carving things up between sides. I'm going to encourage that calm heads prevail."
Note: Due to the political nature of the discussion regarding this topic, the discussion thread is located in our Politics, Religion, Social Issues forum. All forum members and site visitors are welcome to read and follow the thread, but posting is limited to forum members with at least 100 posts.